This post is sponsored by Tarkett NA; however, all thoughts and opinions expressed are my own.
This post has been a long time coming! I have been sharing some weekly updates over on my Instagram stories, but I wanted to share with y'all that my She Shed is finally finished! YAY! I'm going to share just how I built it and how to get one of your own!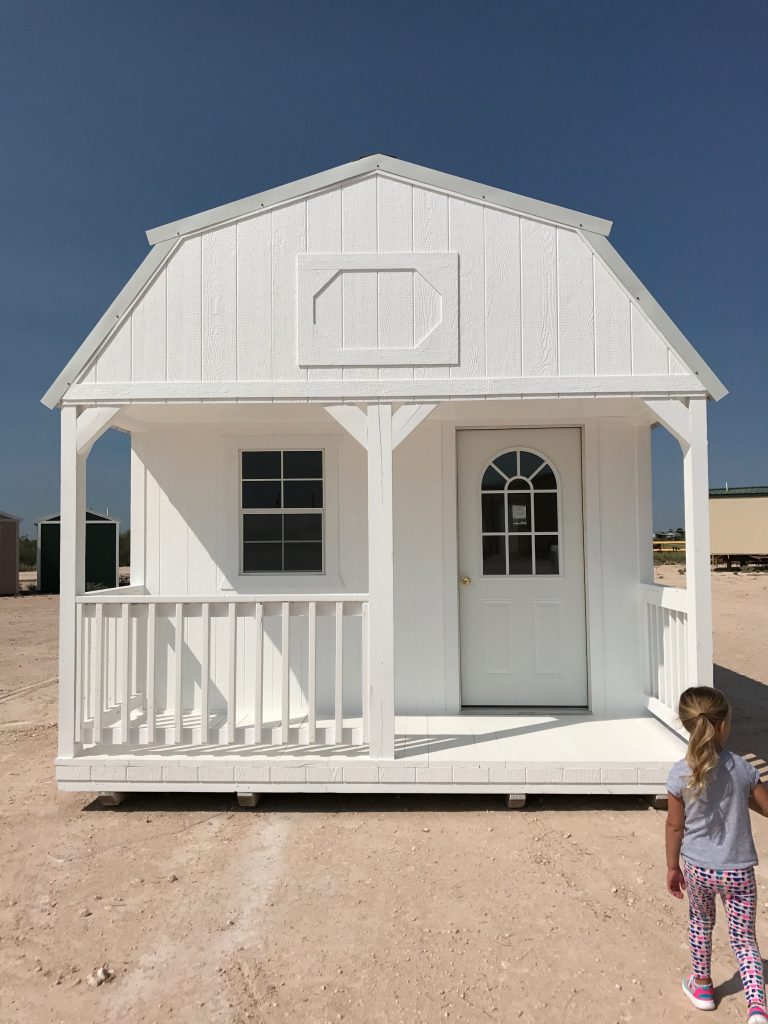 What is a "she shed" you ask? Well…you know how men get their "man caves" and can do whatever they want in them? This is the equivalent – I wanted a place for all of my stuff. A place for me to work quietly and keep all of my blogging gear. I wanted my own office, and instead I got a She Shed! I'm obsessed with it, too! 🙂
Let's backtrack a bit…several months ago, I ran into a problem that most work-from-home moms probably have; no space to work! I found myself on my laptop in the kitchen, in the floor of the playroom, in our living room. Heck, I've even tried to work from the trampoline! We didn't have a space in our house that would work for an in-home office, so I decided to brainstorm what we could do to make something work for an office!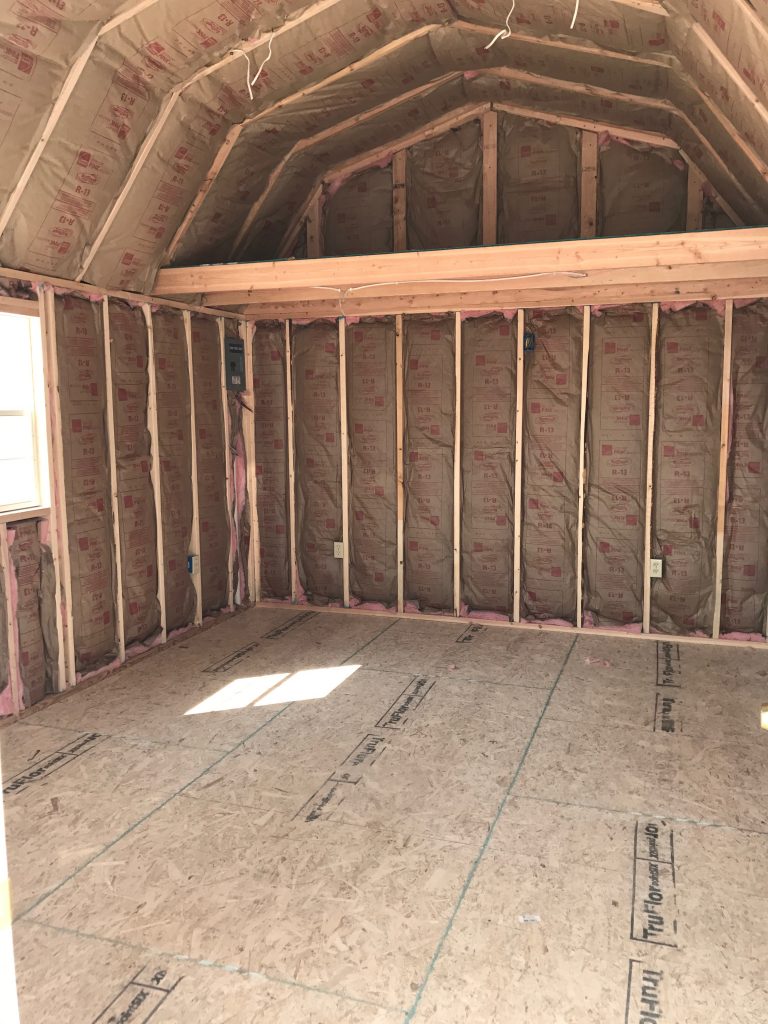 I kept seeing these little shed-houses being built in our area, so I contacted them to get a quote! I wanted something small enough that it wouldn't be overwhelming to furnish and something that would fit inside our backyard. That was the original plan. I met with the builder and he suggested a 12×20 shed with heat/AC, electrical capabilities and insulation so that's what we went with! I also wanted a little front porch and lofts, so he wrote that into the plans!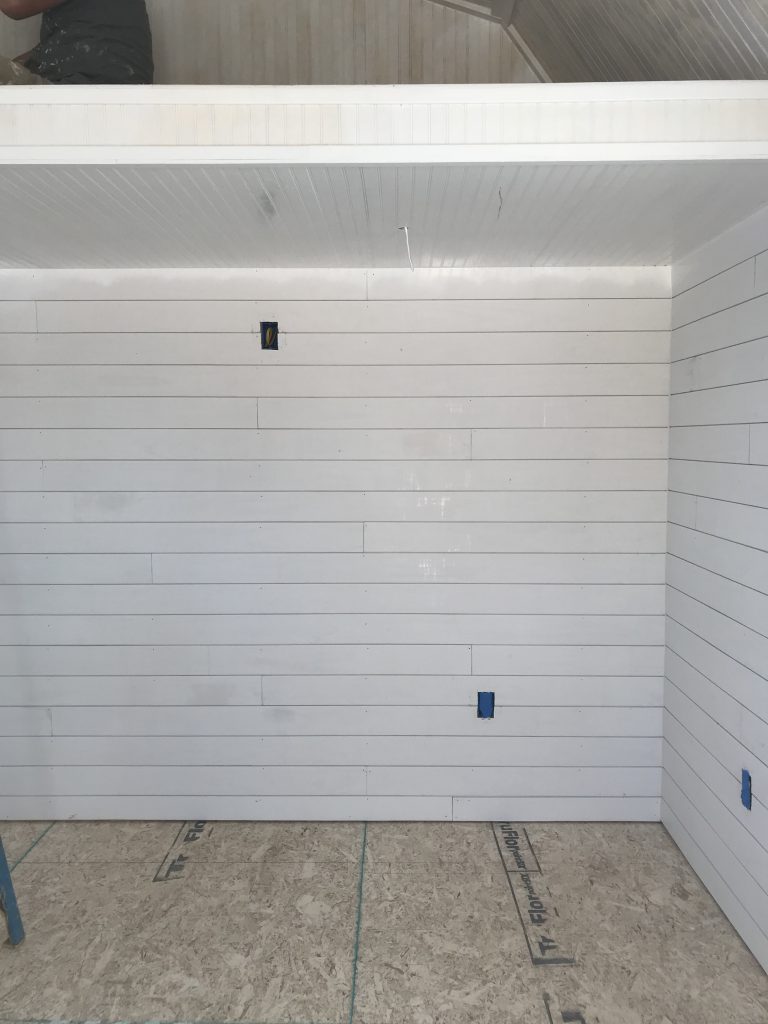 About a month later, I got my SHE SHED!! They built it from ground up and customized it to exactly what I wanted! I wanted an all-white (you know, do it for the Instagram) and just needed to get the inside finished out!
The walls were done in shiplap. We found this really great easy-install primed shiplap at Home Depot to install. I enlisted my brother-in-law, Jesse, to come do it for me since he's savvy in that kind of stuff! For the flooring, we used the Champion Oak Transcend SureSet peel-and-stick hardwood from Tarkett Flooring. I couldn't be more thankful and happy with the outcome of the walls and floor. We went with Pure White as the paint on the inside because I didn't want it to pull yellows or blues. I LOVE the color.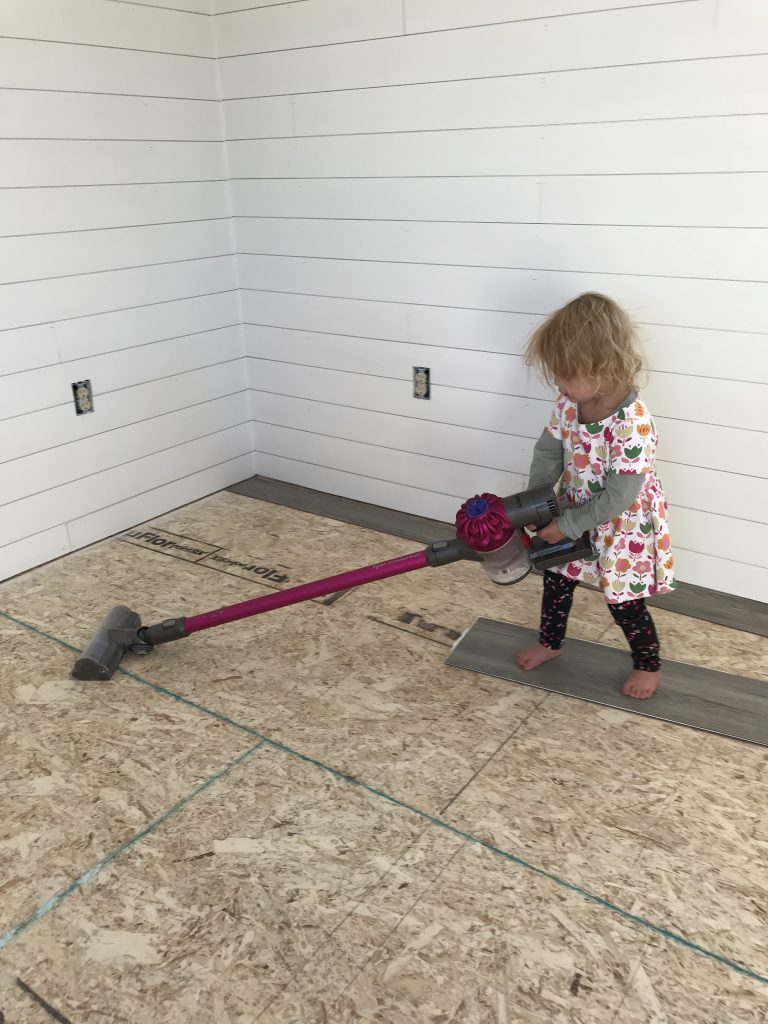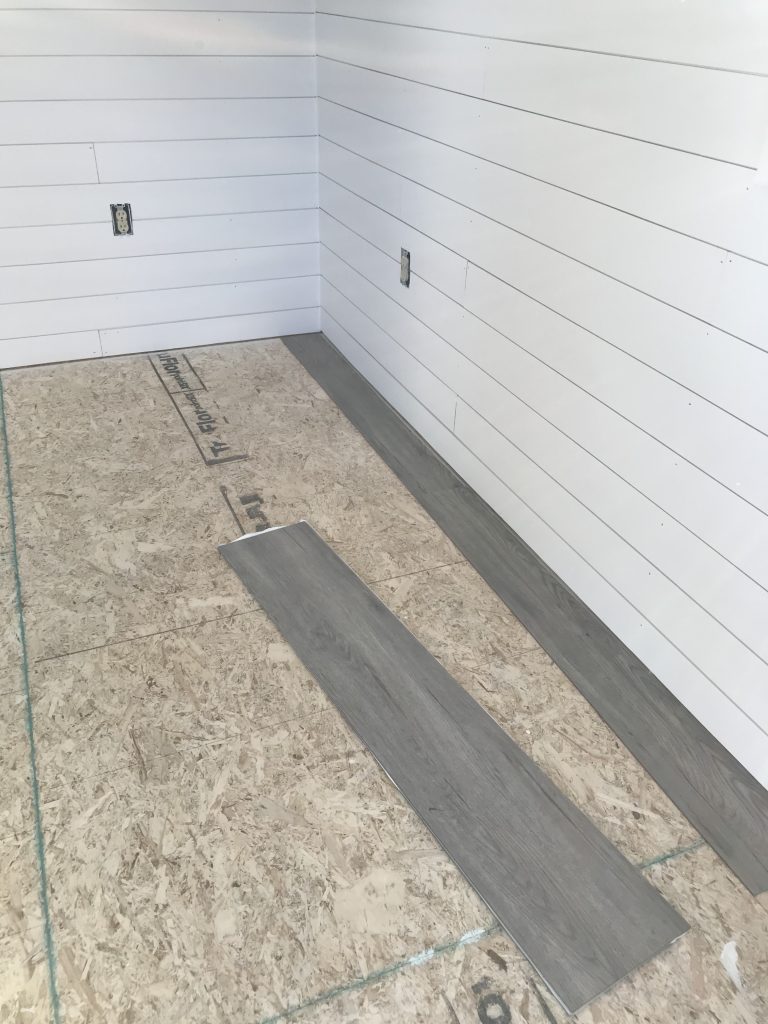 The flooring was probably the easiest part! I was even able to do most of it myself with the help of Jesse cutting them for me and then my sister and I stuck them down! If you're interested in learning more about the flooring, you can visit Tarkett HERE and contact them to get the flooring for your she shed, home or whatever space you need flooring for! They were AMAZING to work with! Tarkett SureSet is perfect for any room in your home creating a beautiful floor without the hassle of installation. It is even recyclable and reusable and the perfect floor for your next DIY whether it be a she shed or a room in your home!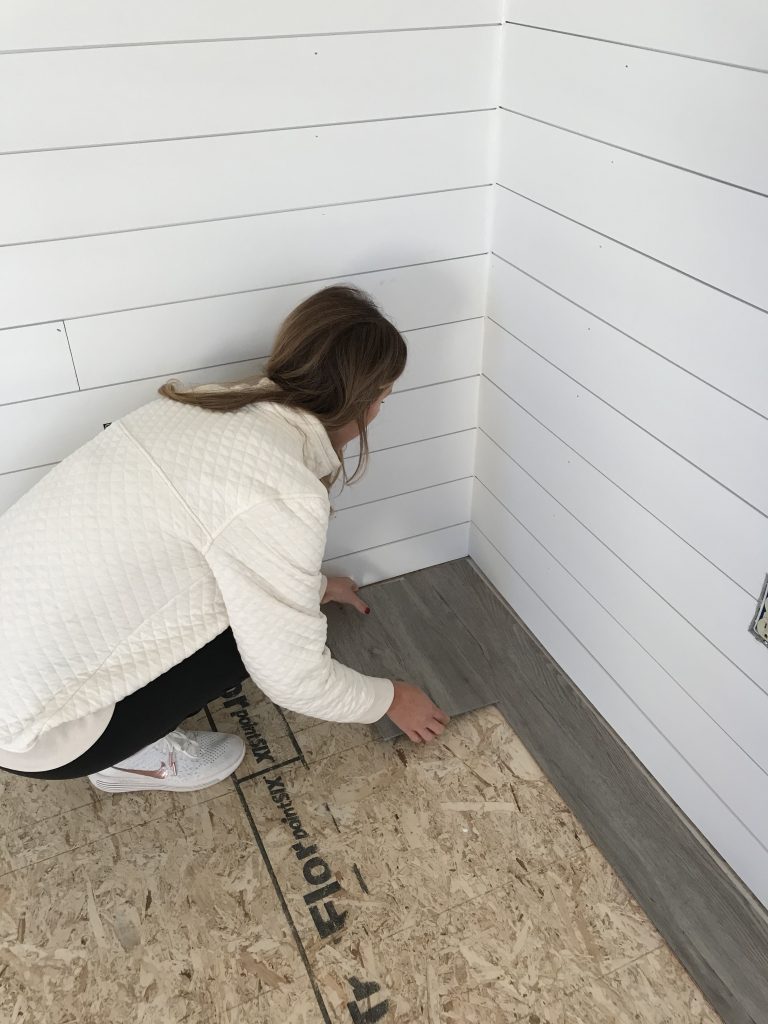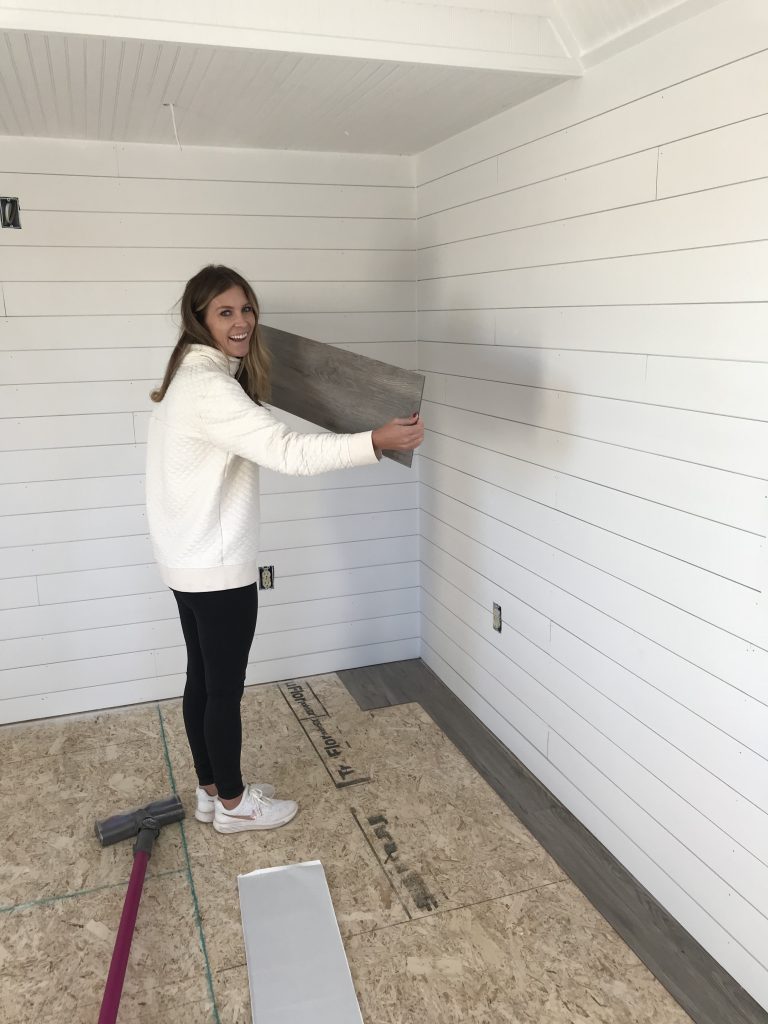 Here is my She Shed all finished before furniture! I can't wait to update you all once we get the items in there and it really starts to feel like my work space! It is going to be so nice to have a desk to work from and not have to sit on the floor with my toddlers climbing all over me! Ha – can anyone relate?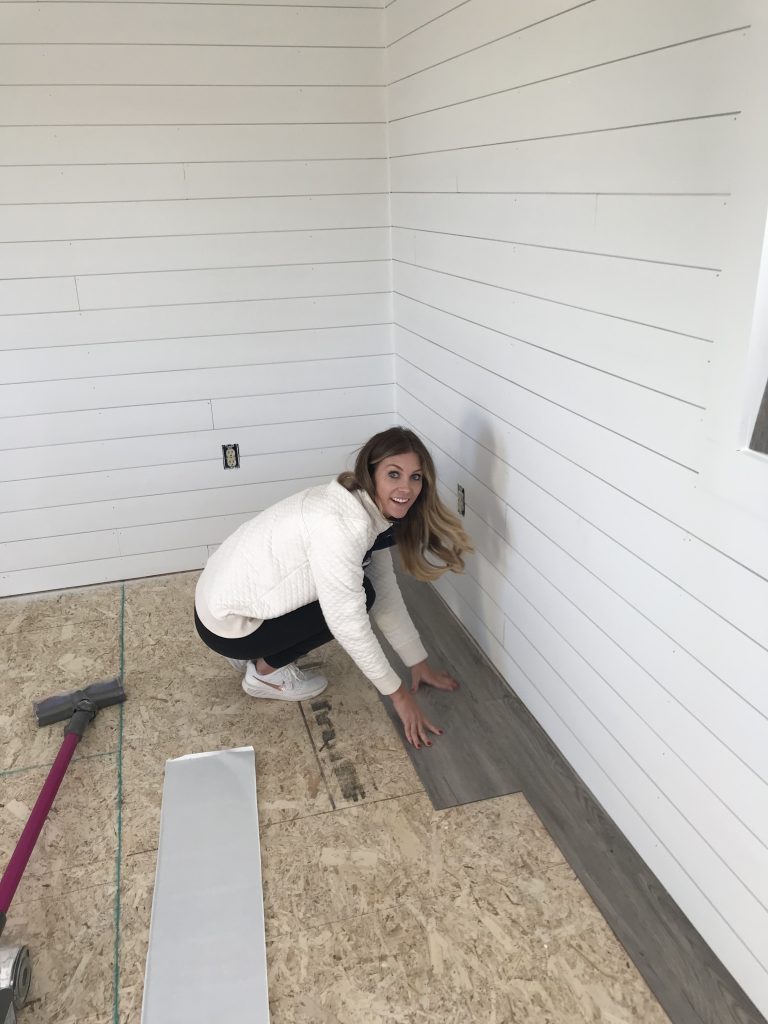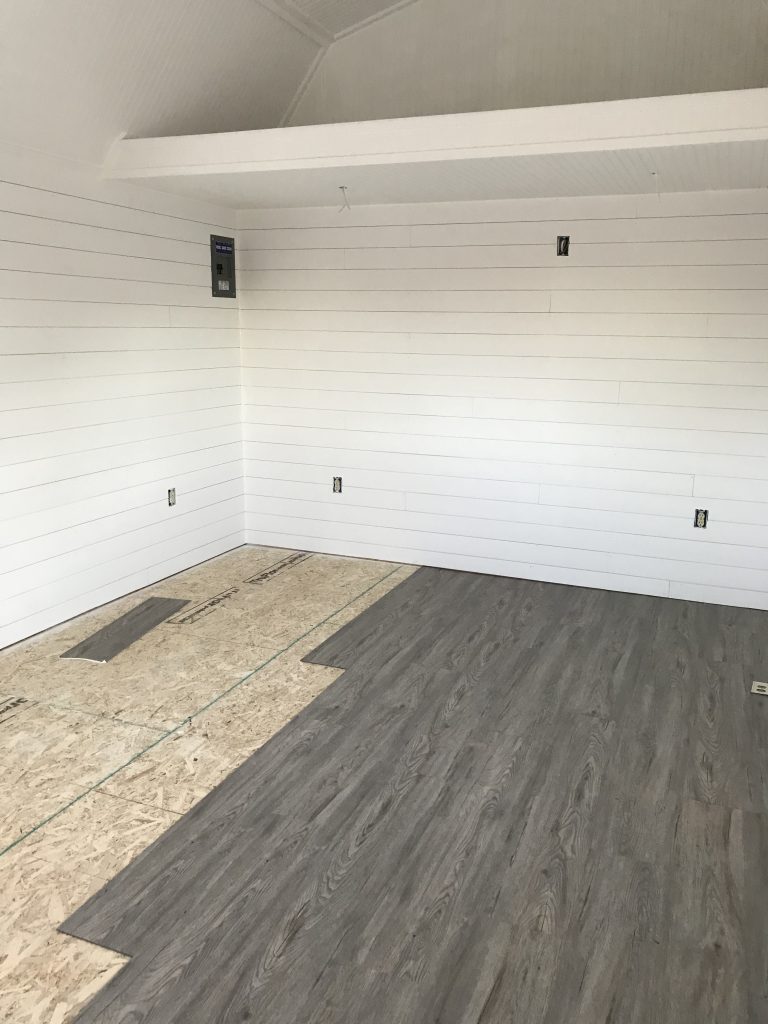 Where do you work from? Do you have a space that you can call your "office"? I know lots of you have asked about how to build a she shed, and I know that I really didn't give you the step-by-step but this is how mine happened! It was super easy! I would definitely start out with talking to someone to build for you and then getting the flooring from Tarkett!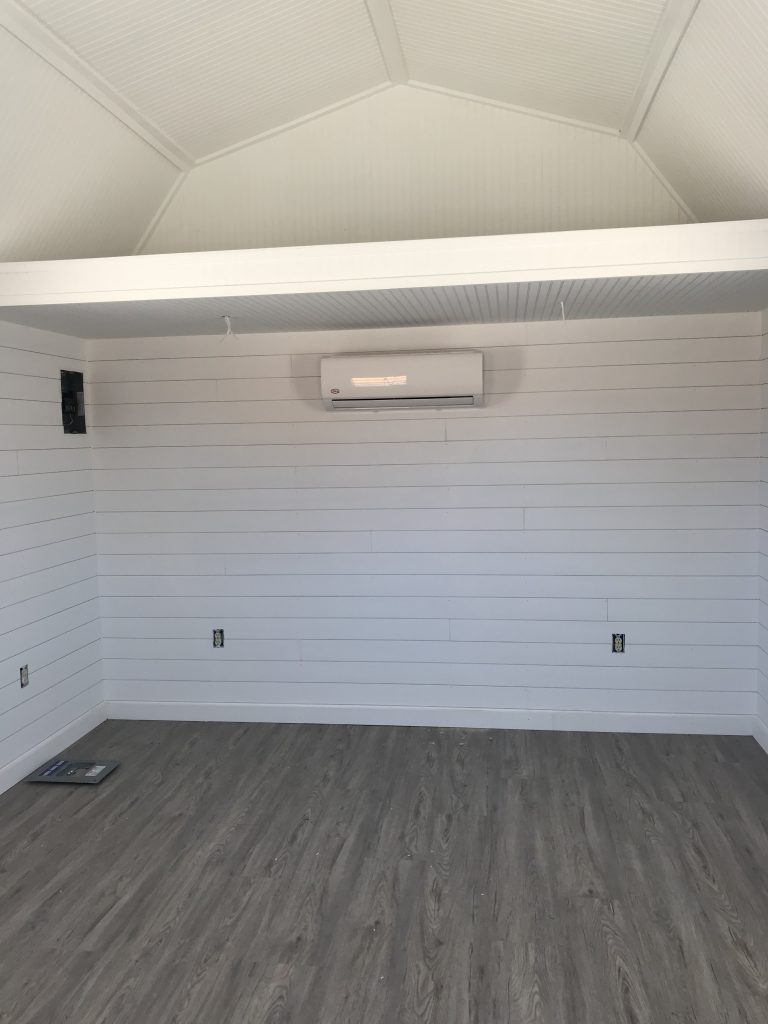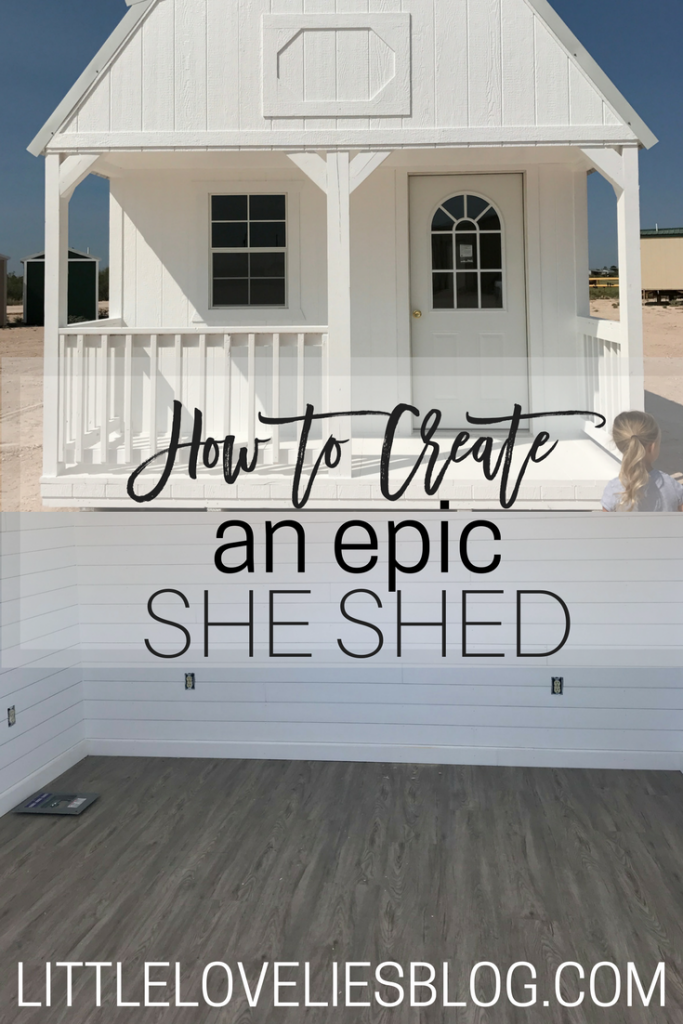 I'd love to answer any questions you may have about the installation of the flooring, the she shed or any other questions you may have! I can't wait to reveal to you all of the furniture and the design that we're working on SOON! Stay tuned!
Have a great day, friends!