I wrote this some time ago but am just now getting around to sharing! I think I am going to start writing the monthly post at the end of the month because so much happens between the first and last of the month! I'm going in and adding the new things below what I wrote a few weeks ago!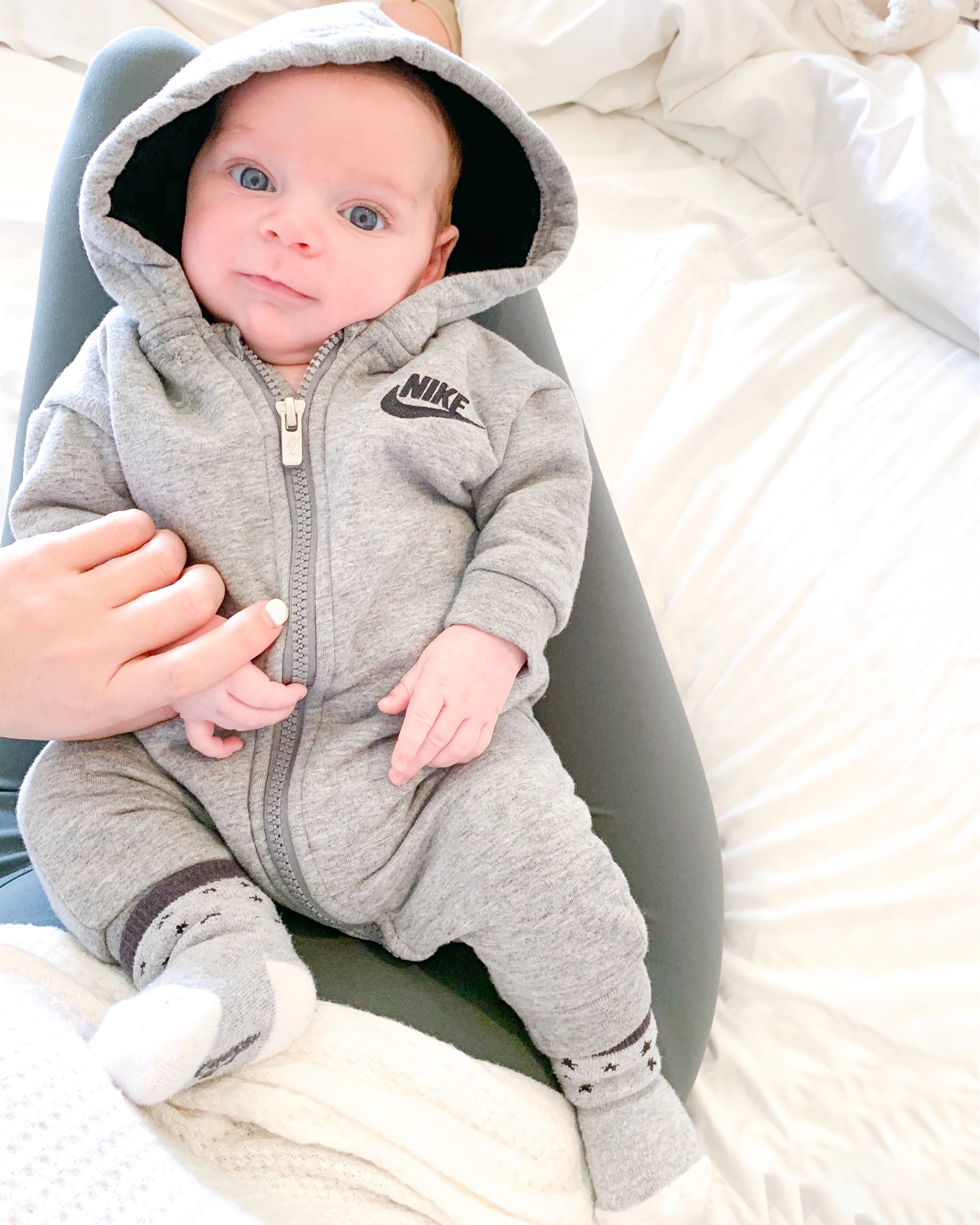 We're coming up on the second week of B being 2 months and I just can't believe how quickly the time is flying by! He has done all the things in his little life, but life with 3 is SO BUSY! I joked on my Instagram Stories the other day that it's easier to keep the girls home from school than it is to take them and only have him at home. My heart sure is happy when I have all three of my babies there, but I know it's so good for them to go to school, socialize and learn.
Brexton is proving to be the easiest, most happy boy ever! He just keeps getting more smiley and squishy as the time goes on. He certainly LOVES to eat and sure doesn't miss his nursing times! He has got the chubbiest little cheeks!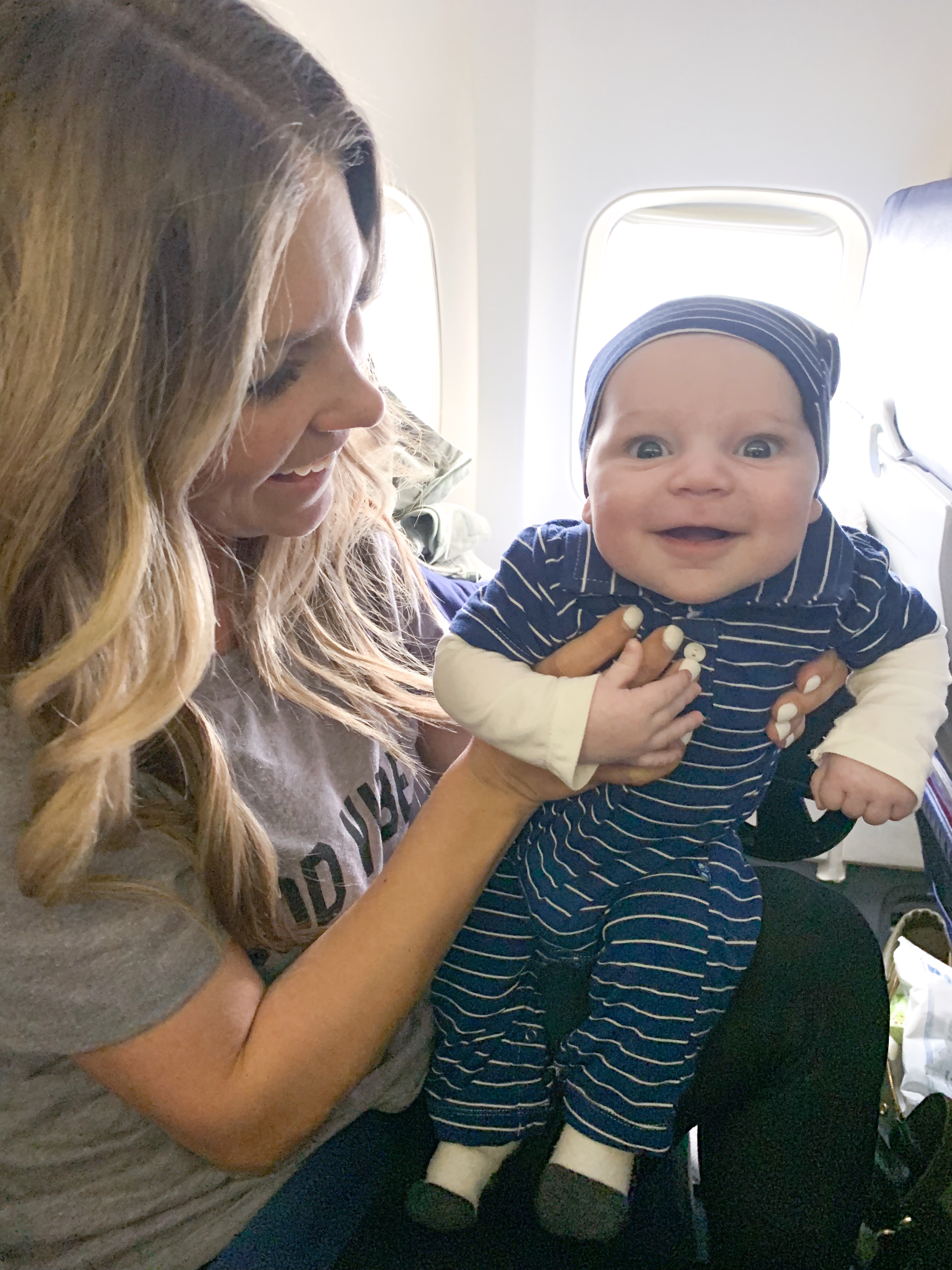 B took his first trip/flight to Arizona this month! He did great and was such a good boy! Everyone, of course, doted on how wonderful he was and how handsome he is! I'd have to agree! He did great and it felt good to get that under my belt. Mom went with us to help and it was such a great little trip for the 3 of us while the girls stayed home to hold down the fort! I haven't quite tackled traveling with all 3 via plane yet, but I'm sure that time will come – ready or not! I will have some travel tips with babies up soon!
**We took a trip to Ruidoso, NM at 12 weeks! He did great in the mountains with Lulu and Da while the girls, Brett and I skiied!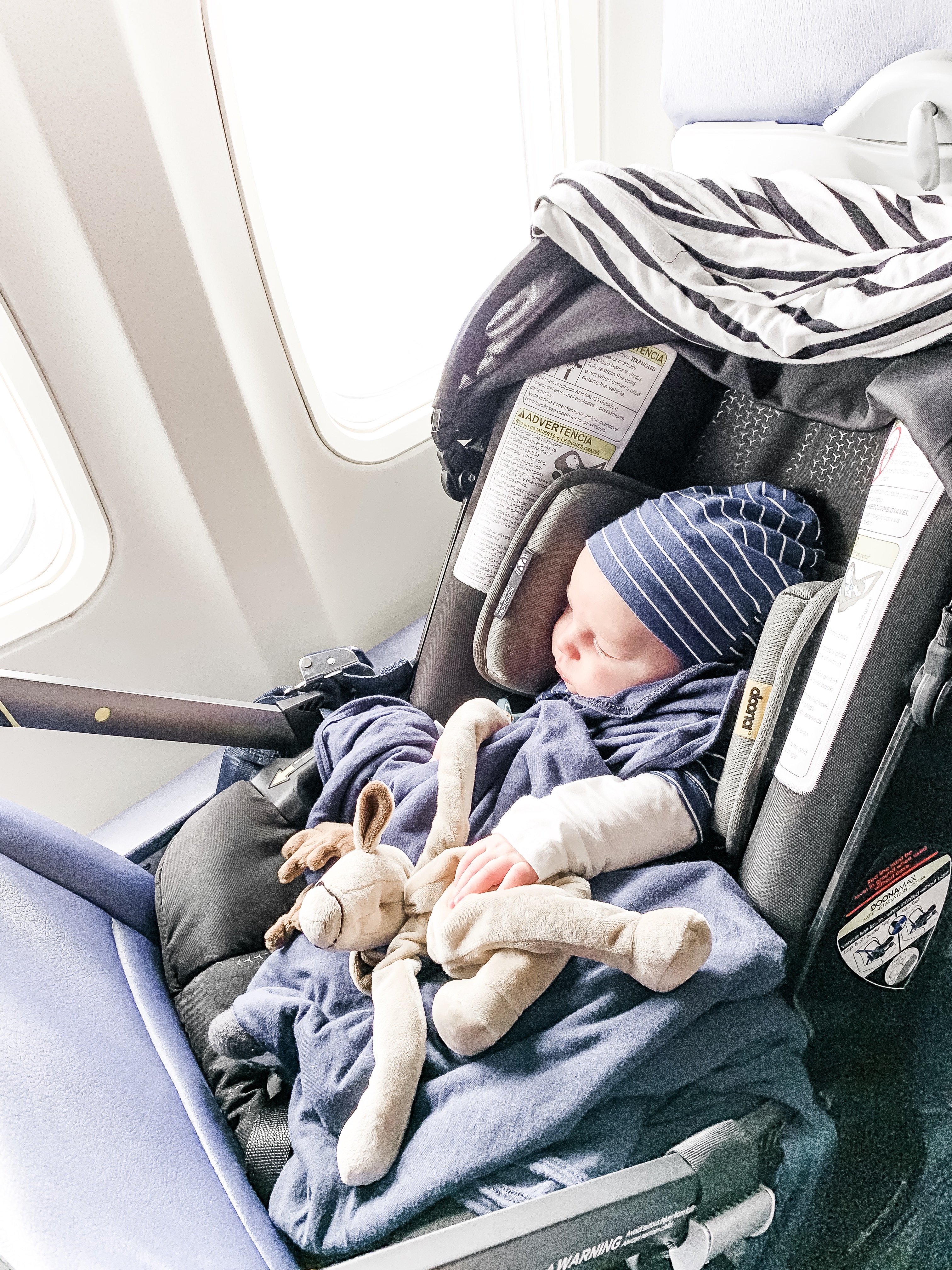 We have 2 month check up and shots next week, so I'll try to come back here and update what he weighs and how he did with shots. I'm dreading them, but I know he'll probably be a champ just like his sisters were!
**B ended up getting RSV right after this and had a long week or so of fighting that. We delayed vaccinations as he wasn't feeling well. He ended up getting those at 12 weeks and did great! He ran a low grade fever for about 6 hours but then was good to go! He actually slept amazing that night!
2 Month Wellness Stats:
2 months, 1 week: 1/23/19
Height: 23.2 inches – 51th %
Weight: 12lbs 5oz – 57th %
Milestones
He rolled over from tummy to back for the first time at 8 weeks on January 9th! He has done it a few times since, but hasn't made a habit of it quite yet – thank goodness! He's holding his head up so well and enjoying tummy time. He looks around and coos (he found his voice) and is SO close to laughing! He is all smiles and definitely knows he's usually the center of attention! He's sleeping about 8-9 hours on most nights. We haven't started any sleep training since I feel like 8-9 hours is great for a 2 month old and I know 4 month sleep regression will be coming up soon…We will transition to crib for naps within the next few weeks and move up his bedtime. Then transition from the Snoo to the crib for nights.
**We actually decided to move him to his crib at 12 weeks. He was waking up mid-night because of the noises, I think. He's doing so good in his crib, in the dock a tot. He's sleeping 8+ hours which I'm good with at this age! He laughed for the first time at 12 weeks!
Reflux / Intolerance Update
We are still dairy/soy/gluten free and he's doing great! No slip ups this month (that I know of) and his reflux is more under control. We talked with his pediatrician and we are keeping his Zantac dosage the same. He is doing great taking it 2 times a day and seeing the chiropractor weekly. He is finally able to lay down and sleep flat most of the time and not spit his guts up! He is, however, still spitting up a lot…he's just a happier spitter which they assured me is normal!
Size
He's mostly outgrown all of his 3 month clothes so we're on to 3-6 month unless the 0-3 month runs big! He is just really long and fills out his clothes well! 😉 We had to move up to size 2 diapers at 7 weeks and size 3 by 9 weeks. He's filling those out pretty well, too! He's just growing so quickly and I can't believe it! The girls were much smaller – but again, he's eating well! He is exclusively breastfeeding, but has taken a bottle twice now. He took around 5 ounces and I do a weighted feed with the Hatch Baby Smart Scale and he's eaten anywhere from 4 to 6.5 ounces.
**At the end of this month, he's in 3-6 month clothes and outgrowing those already! Goodness!!! Size 3 diapers!
Favorites / Dislikes
He LOVES going for walks, listening to music or someone sing to him, taking baths, eating (duh), being in the car – he really doesn't even mind his carseat. He absolutely loves his big sisters and has almost laughed for Laikyn. She is his #1 fan and would babysit him all day everyday if I'd let her. She is pretty smitten with him! He still doesn't really love getting out of the bath and being wet. He's liked the bottle fine when giving it to him. I should probably do that again soon so he likes it when I need to be away.
Brexton's 1-2 Month Favorites

I asked you all to send in your baby's 1-2 month favorite things too! Here's what yall said!
Top 50 Readers Favorites
Lemoonade Lactation Support
Tubby Todd All Over Ointment
Silky Tots
Bibdanas
Mesh Bags from Ikea
4Moms Bathtub
Solly Baby Wrap