It seems like we're always on the go, between living an hour and a half from all things we need to get to or that we're actually traveling to a fun destination, our little family has done our fair share of traveling! Since adding Brexton to the mix, we've had to slow down quite a bit but he's still proved to be a great traveler, which we prayed for! We have lots of travel planned coming up and I'm asked all of the time how we do it, so I was going to share some tips that I've learned over the years!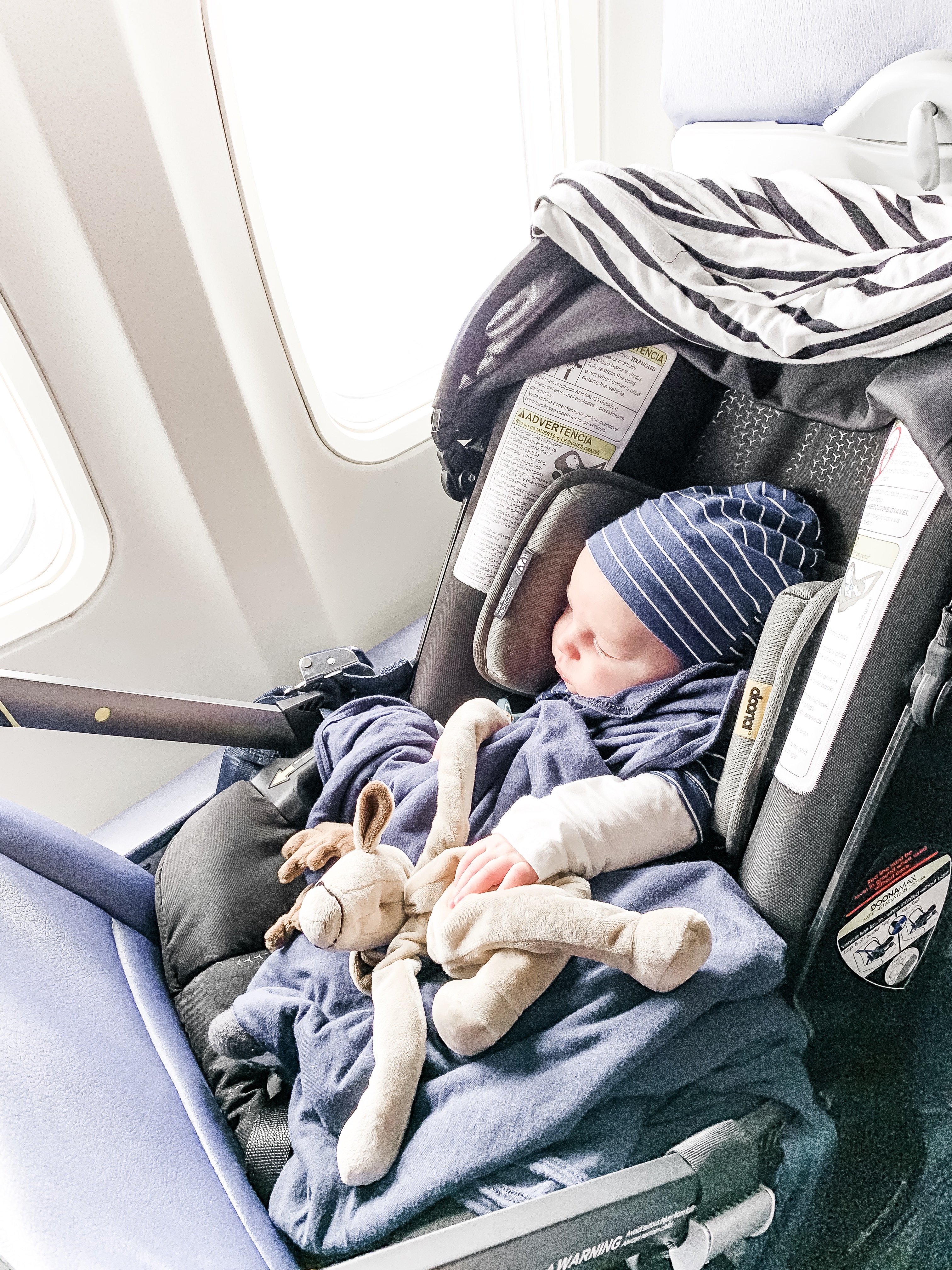 top / tee / leggings / sneakers / diaper bag / suitcase / stroller
Brexton took his first commercial flight at 2 months old. He did great and I couldn't be happier with how he was! Everyone doted on how great he was, and I know we may not always get that lucky, but I hope he continues to love travel! A year or so ago, I posted some tips for traveling with toddlers, but I'm going to share more about how to travel with a baby today!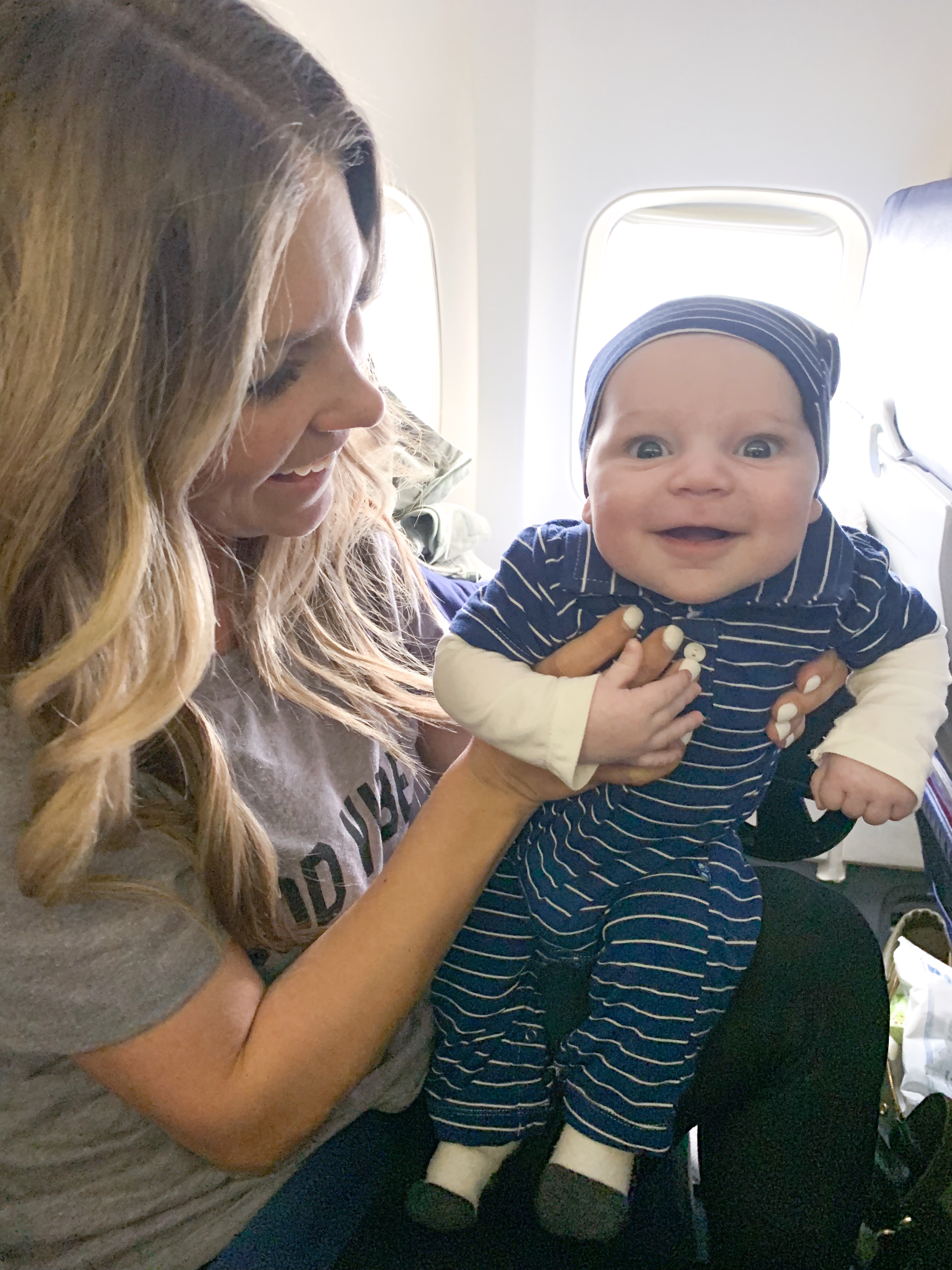 Tips for the Airplane
Invest in a great carseat! We decided to bite the bullet and get the Doona travel system for Brex. I actually purchased another traditional carseat/stroller combo that I thought I needed, but have only used it ONCE. He has used the Doona since birth and it has proved to be the best invention ever. Especially if you have other small children, this is hands down one of the best things you can get! We didn't have to lug around an extra base or stroller, it's an all-in-one system and is SO great for traveling!
Take carseat / ask for empty seat on plane! When you check your bags, tell the ticketing counter that you'd either like to check the carseat/stroller at the gate or ask if there is an empty seat available on the flight. If there is room on the plane, they will allow you to take the carseat on with you to sit in a seat for free. If you don't want to carry it on to the plane, check it at the gate so you can have it while traveling through the terminals.
If you have an infant, plan to take a pacifier, bottle or nurse during take-off and landing to ensure their ears pop and don't hurt. This is the number one reason you'll hear a fussy infant on the plane. The cabin pressure can hurt their little ears, so if they are sucking it eases / pops their ears so they can hear and not hurt!
Stay covered! We kept Brexton in his carseat or carrier the entire time. If he was out of it, he was nursing or getting a diaper change. It kept him away from germs and from people attempting to touch him! (you know what I mean…haha)
Try to get a direct flight. If not available, choose the shortest amount of travel time. It will be worth the extra money spent, I promise.
Sit baby (if in carrier) in window seat. If baby can't be in the carrier, still sit in the window seat and as close to the front of the plane as possible.
Take baby's passport OR birth certificate. They will need this for a ticket if they are under the age of 2.
Get TSA Pre Check for yourself. It makes the process SO much easier.
Do not take a rolling carryon! You will want a backpack or diaper bag because all hands on deck for the baby!
Don't stress and take your time! People will understand that you are traveling with an infant and give you some grace!
Get earlybird check in! You will be able to board the plane earlier than most if you are family pre-board. But I would get early boarding before that and pay a little extra! Check with your airline to see what you need to do for that!
Pack a change of clothes (or 3 in my case).
Don't forget the Lysol, Clorox Wipes and/or Thieves Spray!
**Breastmilk: If you are pumping and traveling with milk, they will test the milk UNLESS it's frozen. If you have frozen milk, it will go through security just fine. Allow extra time for the BM to be checked when going through security!** I'm not sure what they do for formula, but if you are concerned, be sure to check with TSA!

Tips for the Hotel / Overnight Stay
Create "at home" environment while staying in hotel or away from home overnight. Plan to take all of the things you use at home that are easily packed and keep the same routine. We took the Dock a Tot since he sleeps in that at home in the bassinet.
If baby sleeps in crib, call the hotel you'll be staying at to see if they have a crib or bassinet for the baby that they can have available for your room. We also like getting a suite or extra space for the baby to sleep so we're not waking them while watching TV or talking.
Take a sound machine. You'll thank me later!
Pack an extra crib sheet if you're using the hotel pack n play or crib! It will smell like home and you know it's clean!
Keep it dark and in a good sleeping environment
What tips do yall have for traveling with an infant? I feel like I've done this for so many years, but there are TONS of tips out there that I probably don't know about!! Leave them below or send me an email and I've leave Reader Tips below!!