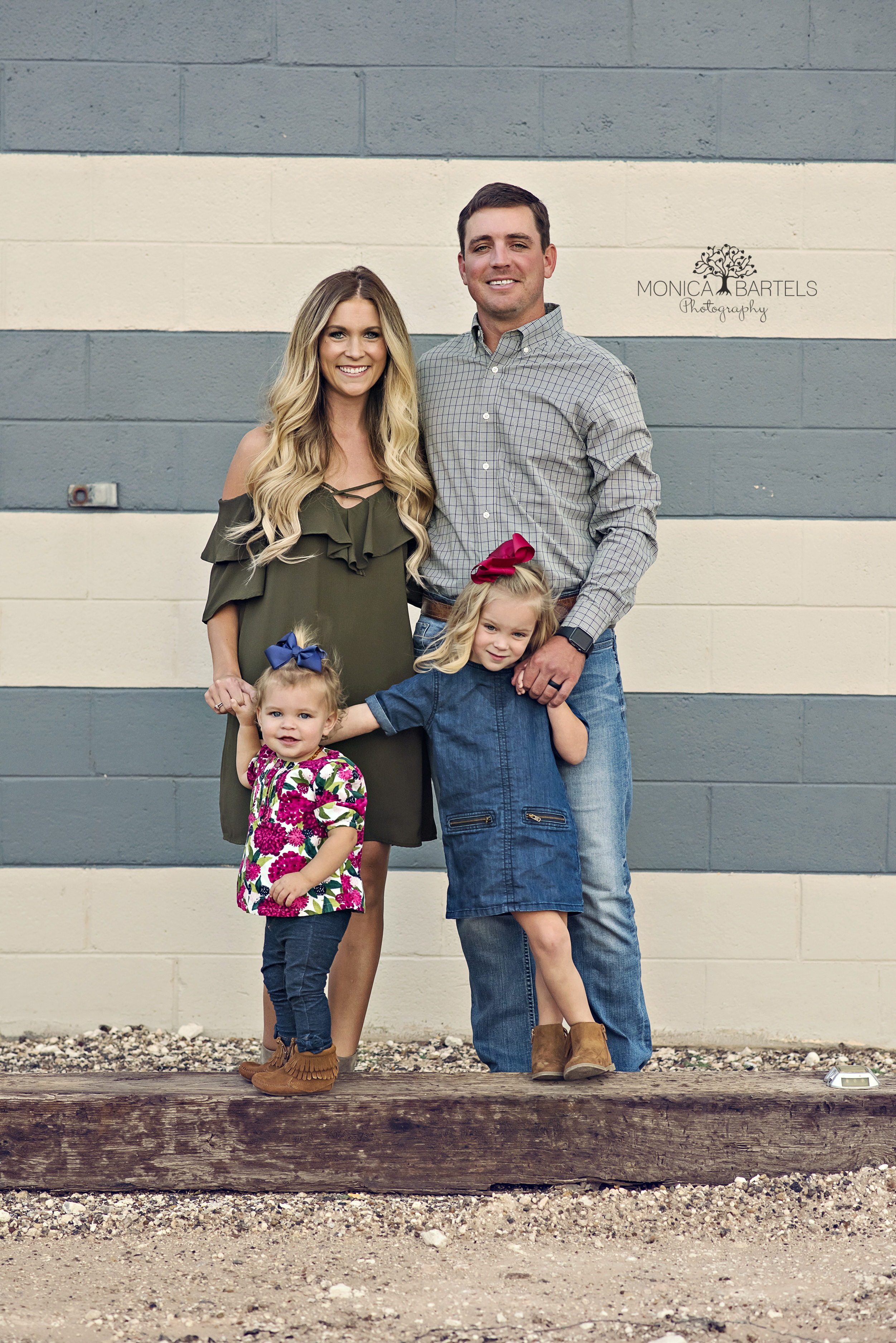 Family pictures + Christmas cards. Those two things usually make me worry, shop, worry and shop again. I second guess my outfits and plan about 3 options. Do I really need to do that? No…but there is some kind of pressure that goes along with the "once a year family pictures" that usually stays on people's refrigerators for the year. I spend each year planning out our outfits and making sure that they work well together. I wanted to share some tips for styling and dressing your family for photos this year! Easy tips to making your Christmas photos super easy!
When you have children, it seems the stress-struggle is real. There are more people to add to the photo, even after you've chosen your perfect outfit! Not only do you have to get yourself ready, but you have to get the whole family ready for the one picture to make the Christmas card. Then you worry about everyone looking and smiling for at least ONE photo. It's not easy. Moms should be paid for this kind of stuff – at least paid in chocolate and wine.
I want to share some tips for how I make it work with our family!
Here are 10 Easy Tips for Styling Family Photos:
Choose ONE Outfit You Love First – I usually do my shopping several weeks beforehand and find ONE outfit it really love, whether it is mine, my daughters' or my husbands. This time, I had my dress chosen before anyone else's so we based everything off of it. I keep in mind color and season when I am choosing outfits! Also, make sure that you feel comfortable and great in what you choose! It will show, I promise!
Coordinate Colors without Matching – Once you pick that one outfit (for us it was my olive green dress) so we went with tones that complement olive green. Navy, denim, fuchsia – these colors are complementary but don't "match." If everyone wore one color, it would take away from making the photo work. Try to not have everyone dress in white or black, but colors that coordinate. If you aren't sure about if a color works well, you can just search online the color and it's opposite on the color wheel.
Pick a Great Photographer – Do your research and choose a photographer that has your style of photography. If you are a family of 8, you might not want to choose a high fashion photographer that only shoots one person or a still shot photographer. We chose Monica Bartles Photography for this session and couldn't be happier with the outcome and how amazing she is! She worked with the girls really well, and let's face it…kids are not the easiest to photograph (especially at bedtime). If you aren't sure if your outfits work for the setting, just check with your photographer so you can all be on the same page! Open communication will make for understanding and understanding makes for great photos! Monica is awesome!
Plan Before the Shoot – Plan in advance to make sure that your clothing fits right, is steamed/ironed and accessories are ready to go on the day of the shoot. There is nothing that stresses a person out more than having to run around and find something right before getting ready (let's be honest, this takes forever on family photo days) so lay it all out, make sure it works and plan ahead of time. This is some of the best advice, I think, because stressed people don't make happy photos! Relax and know that you've done the work before. When it comes time for the shoot, relax, wear the lovely clothes you chose and have FUN!
Dress for Comfort – If you aren't comfortable in what you're wearing, or your husband's shirt is too stiff or he had to dress in 18 layers, he is probably not going to be comfortable in the photo! This is so important with kids, and if they aren't comfortable they are not going to be happy! Try to keep in mind that you can find stylish clothes that are still comfortable. Uncomfortable clothes make uncomfortable people which makes uncomfortable photos!
Pattern Ratio – Stick with one or two people in subtle patterns and the others in solids. You don't want too much going on in the photo that it takes away from your faces and your beautiful family, so lean to the minimal side of patterns. I love a good leopard print (leopard is a neutral, right?) but, you are not going to want leopard head to toe on anyone. If you aren't sure, try it on and ask a friend! If you are styling for a large 6+ family in the photo, two or three patterns won't be too much, just make sure they are offset and the photographer places them to make it work (not all right next to each other). Textures are also great for depth in the photo!
Pre-Photo Your Photo Clothes – This sounds silly and like a lot of work, right? Well you've probably laid it out to make sure it all flows, right? Just snap a picture on your phone (make sure it's good lighting and not dark) and look at the photo. You can even send it to friends to see what they think (just make sure you can take constructive criticism). This will give you confidence in knowing that it looks great together, and will be even greater when your family has the clothes on in their smiling faces!
Trendy isn't Always Better – Try to stick with some timeless pieces. I think one or two trends are great, but as you know, trends come and go. You are not going to want to look back in 10 years and think What in the world was I wearing? I am so guilty of this in the past, and while my dress is "on trend" in this photo, it's the only piece that's trendy and it's also a solid color so it's balanced. It is offset by others that are more traditional and classic. There is balance!
Shop Around – As much as you probably want a one-stop-shop for everyone in your family, I don't know a place that you can find EVERYONE something that complements each other. Step out of your comfort zone and mix and match from different places. Try to stay away from logos, brands written on the front or back of clothing and character tees! You'll thank yourself later, I promise! 😉
Have Confidence – Strut yo' stuff! Have confidence in the clothing you chose for everyone! You know what you're doing, even if you feel like you don't! Have fun and enjoy the memories that you're making! I love the style of photography here because even if we aren't all looking, there is a story to be told. I will look back on these photos and cherish the moments captured!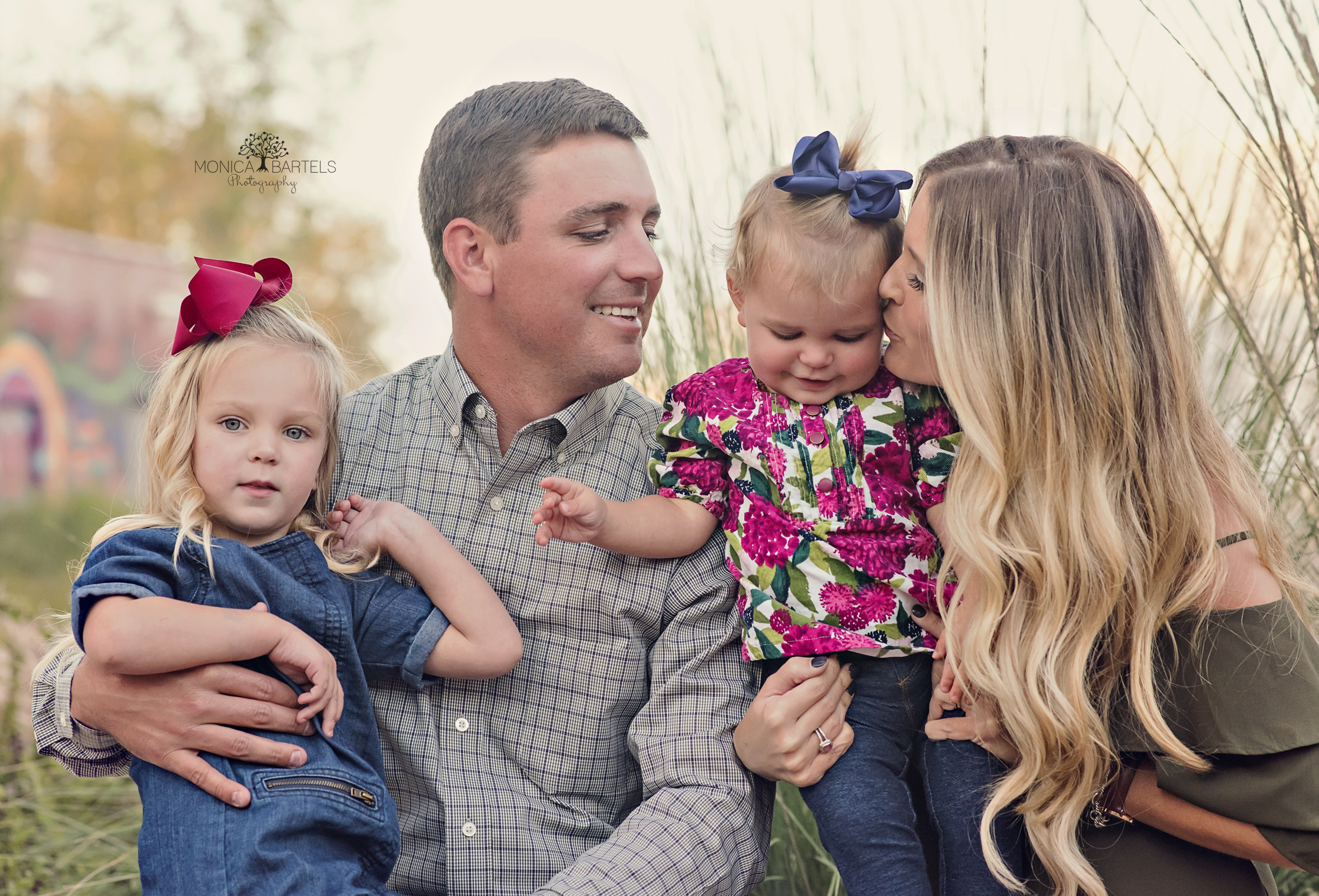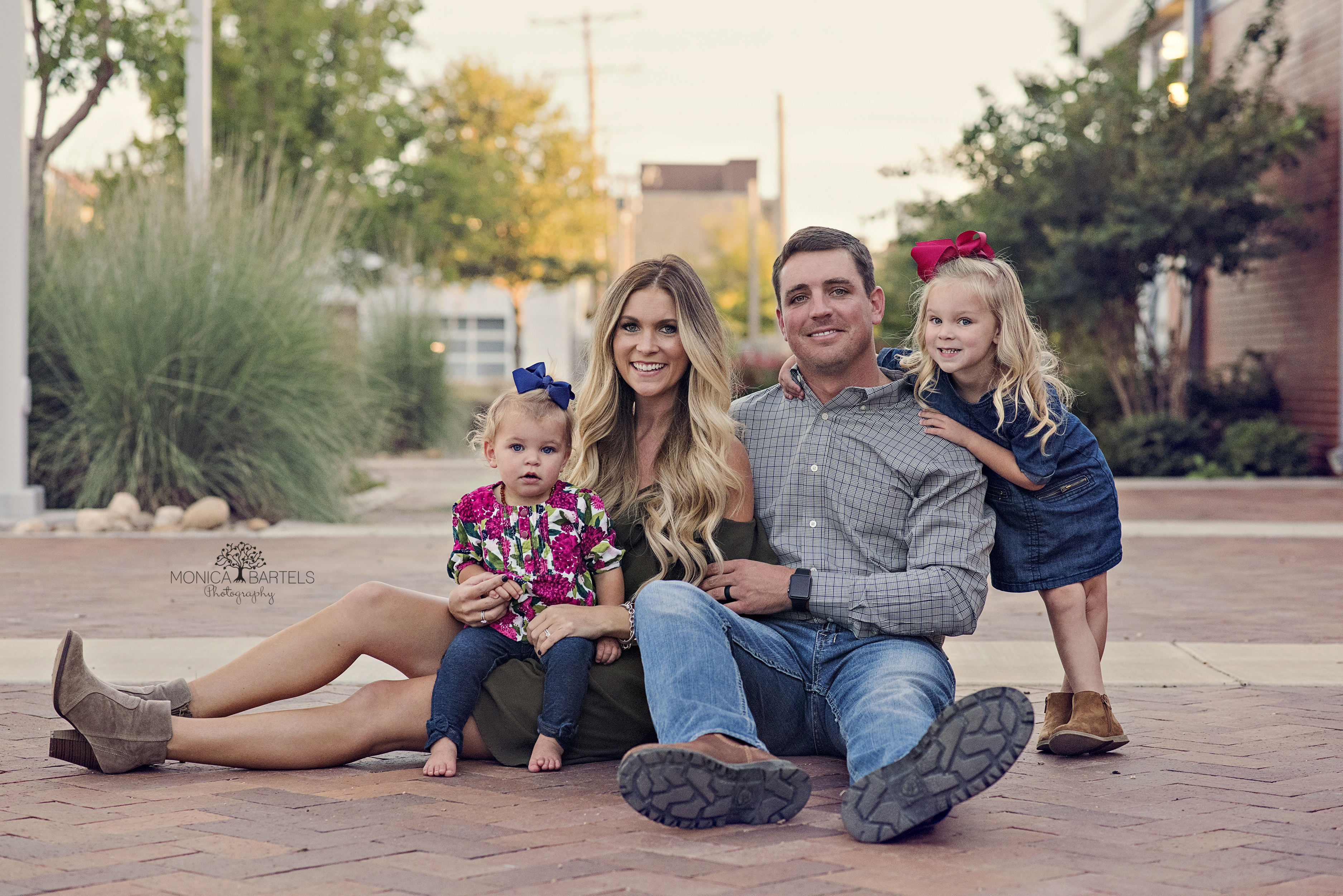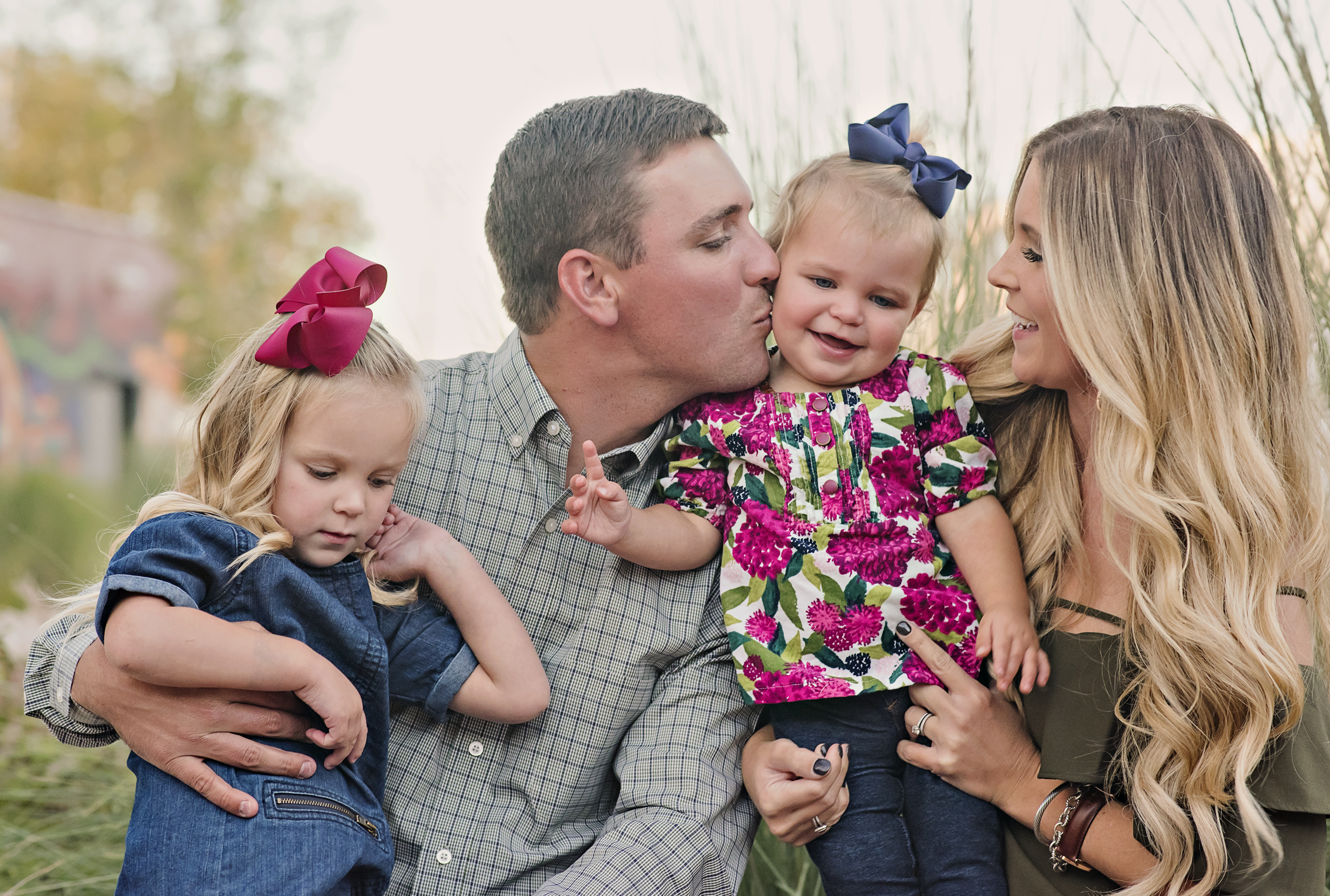 I hope you were able to take away some helpful advice from this post for your family photos! Styling everyone in a family can be a daunting task, but it's so helpful to follow a few of these steps to make sure you don't stress yourself out!
When all else fails, just remember that at the end of the day…you are not defined by your family photo! Have fun and remember to cherish the memories that are captured (even when all else fails and nothing goes according to plan…like photo below)!!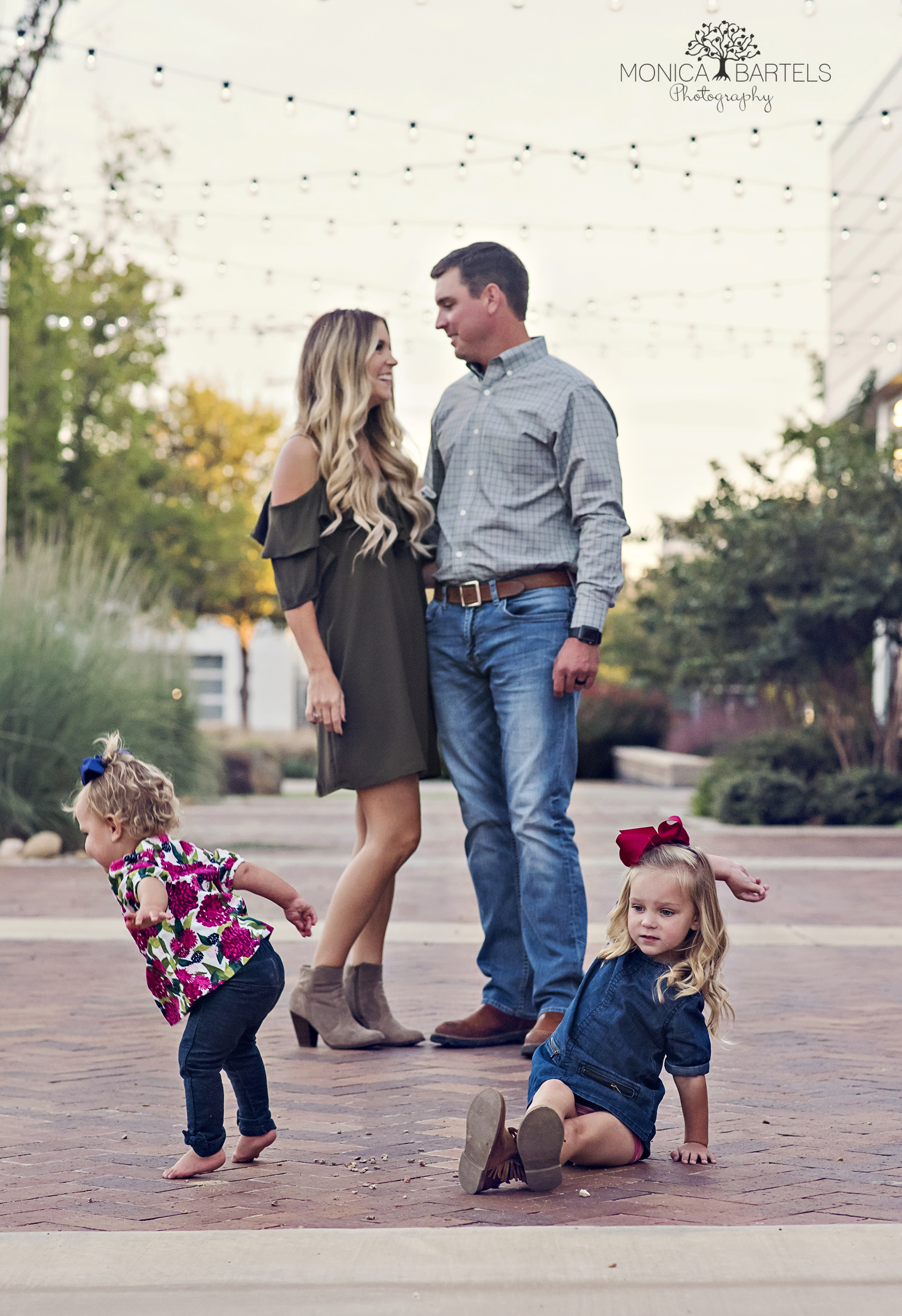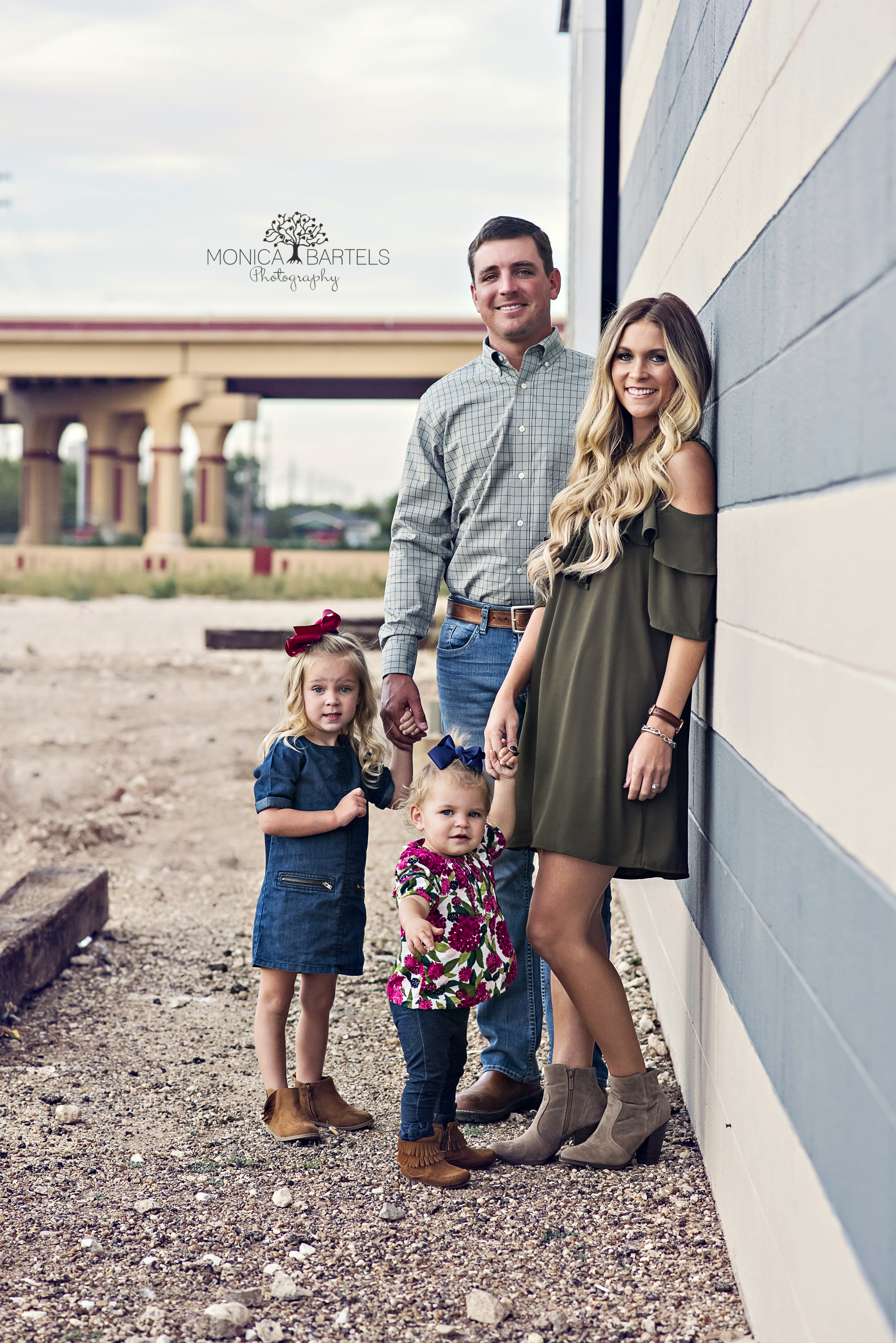 Outfit Details
Me: dress (similar option) // boots c/o Agaci // watch c/o Daniel Wellington (15% off with code NICHOLS )
Lennyn: floral tunic // leggings // boots
Brett: jeans // boots // belt // shirt
If this was a helpful post for you, please share and pin it for later!

If you're in the Lubbock area and are looking for a great photographer, check out Monica Bartles! She is amazing and so so great with kids! We love her for family shoots and are so thankful for her capturing these images for us!
Monica is running a special for Little Lovelies readers! 15% off of your session through December!
Standard Session fee is $225 and includes:
– Unlimited free consultation via phone, email or text
– Time and creative talent of the photographer
– Fully edited images (specific edits-$75 per image)
– One hour session
– Up to two locations
– Unlimited outfits
– Ordering Session/Online proofing gallery
– Complimentary 11×14 mounted print of your choice
– 25 digital images with print release
– Social Media Sharing disc/usb/digitals
– Prints Packages/Wall Art/Albums available for purchase
Birth, Newborns, Mini sessions are excluded.
Contact her HERE for your next family, maternity, children or couple shoot!
Be sure and tell her I sent you for your 15% off!!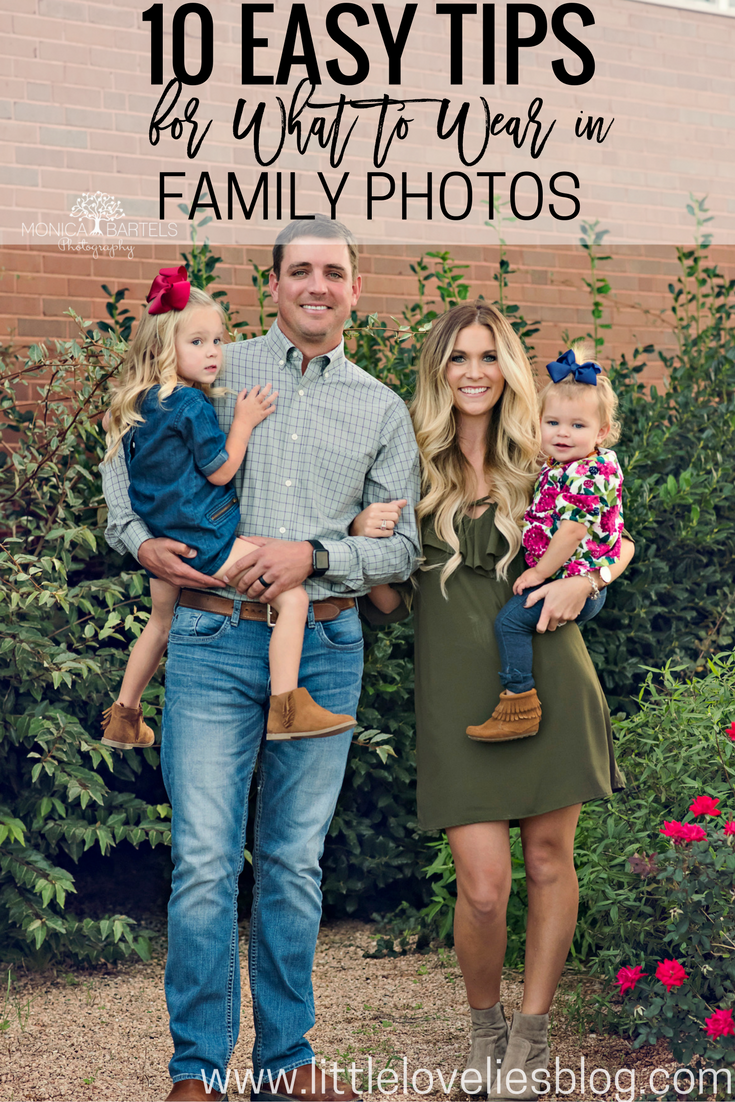 This post is in collaboration with Monica Bartles Photography and contains affiliate links. All content and opinions are that of my own.