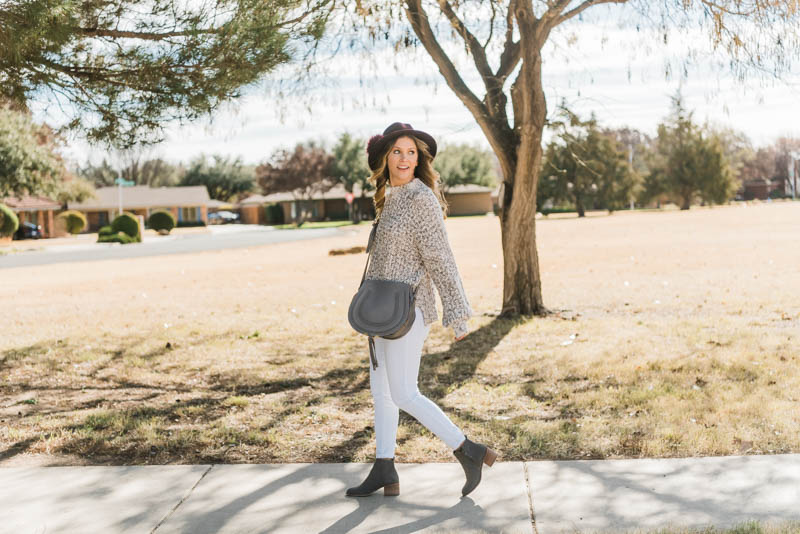 Winter is here and it's sweater weather! I am loving all of the winter whites even after Labor Day. The rule of no white after Labor Day is far gone, and wearing white through winter had quickly become my favorite!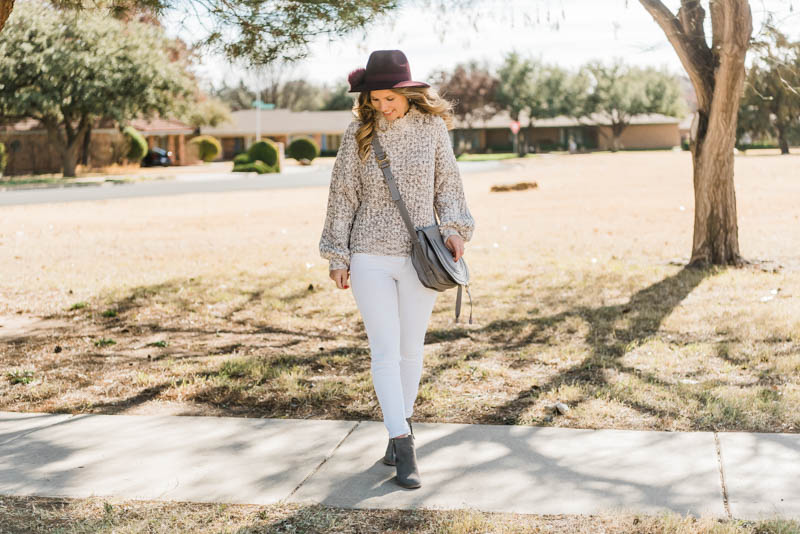 sweater (similar) // jeans // booties // hat // sunglasses // bag
Photos by Lissa Anglin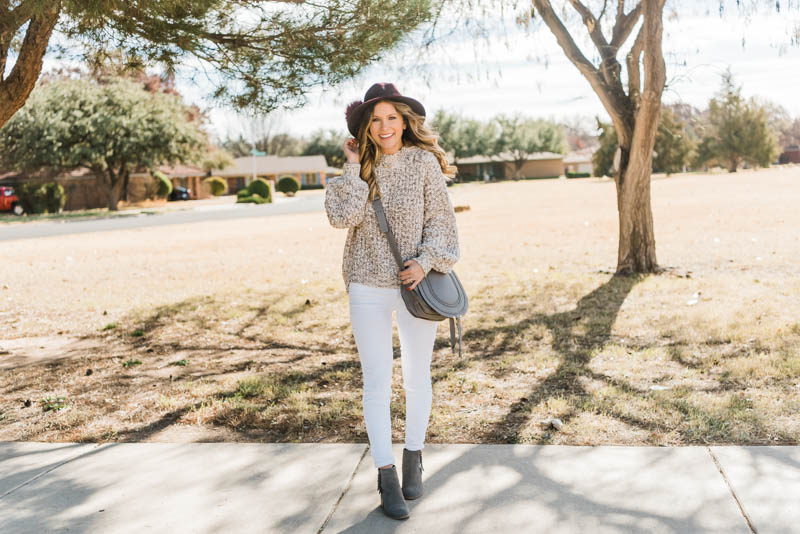 Wearing white with confidence in the winter time is easy, just do it!! Try not to overthink your outfits! Just think about winter and what you would wear without wearing white. What would you pair a sweater with if you weren't wearing white pants? I always try to do one bold thing per outfit, so switching my plain 'ol jeans for white jeans was the small thing I changed.
Pair winter whites with chunky knit sweaters like this one that is under $55. I can't get enough of the oversized, chunky sweaters this season. I love the mock-neck of this one and love that it can be worn boldly with white jeans or thrown on with a pair of jeans or faux leather leggings!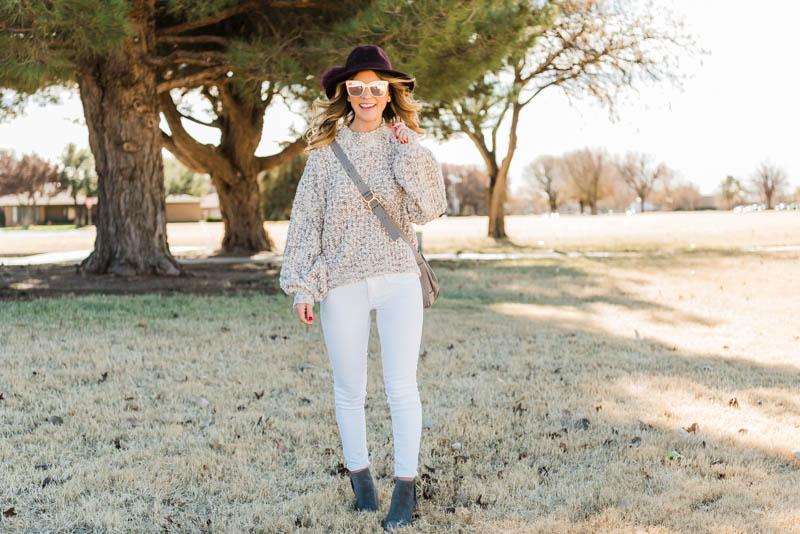 Wearing a deep color hue with accessories makes an outfit scream winter! I love this wine-colored pom fedora, and it even comes in grey and black. I also love throwing a neutral, but flashy pair of sunglasses on! I'm feeling a bit extra in these! 😉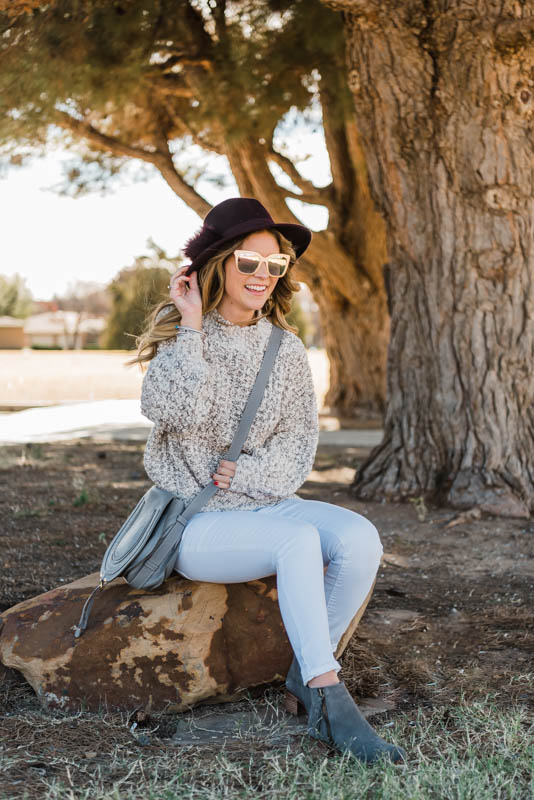 Grey zip up booties are a great neutral to have if you don't have any yet. I recently grabbed these for winter because they go with everything and can be worn with colder temperatures. I would love a neutral grey over the knee boots with this outfit, too!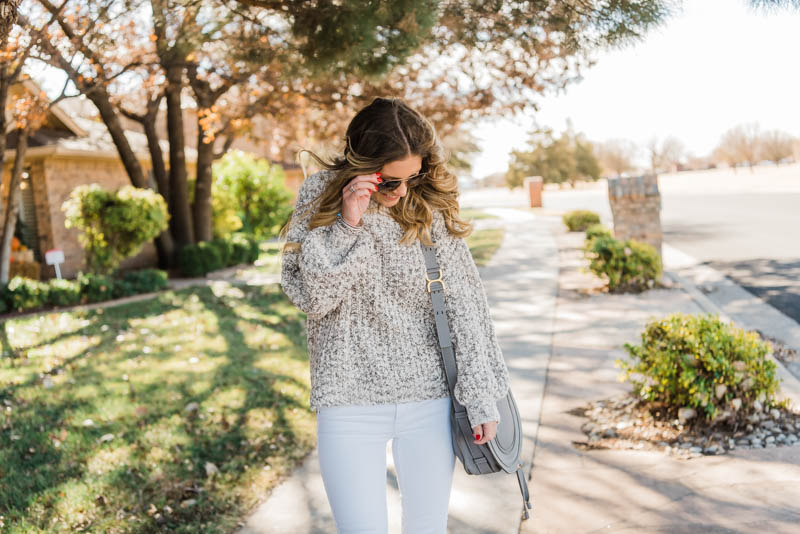 If you want more of a subtle wintery white look, go with a darker pair of shades and no hat! Either way, rock those winter white outfits and don't look back! Wear whatever you choose with confidence because that's what outfits are all about – wearing something that makes you feel empowered and beautiful!
I love finding my outfits at Nordstrom, and you have several more days where you can purchase with free shipping in order to receive your items before the holidays! They offer free shipping and free returns, and for a small fee, you can upgrade to 2-day or overnight shipping to get your items super quick! If you are in a hurry and need them quickly, order online and do curbside pickup at your closest Nordstrom. I wish I had that luxury, but living in West Texas (300 miles from the closest Nordstrom) I will just be excited to take advantage of that free shipping!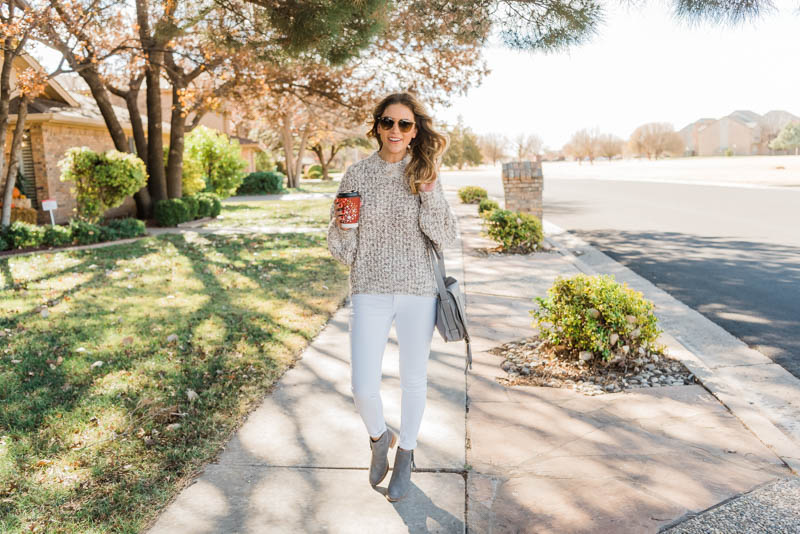 I hope you all are having the best Friday and the happiest weekend! There are only 10 more days until Christmas, so if you are still looking for presents to purchase, visit Nordstrom and grab your friend a sweater, some "extra" sunglasses or a cute pom hat! Then grab you some white jeans to wear this winter with confidence!

This post is sponsored by Nordstrom! Thanks for supporting the brands that I love! All content and opinions are that of my own!