October is here…which means it's acceptable to officially bring on the sweater weather, wear those OTK boots, and drink, eat, and even wear everything pumpkin spice! I can tell you are all ready for fall dressing and fall styles too! I rounded up my Top 10 Sellers from September and it's no surprise, they are some of my absolute favorites too! And we have some second time around top sellers from August…again not surprised because these things are so good!!!!! Like this knit poncho cardigan which is the best layering piece for early fall and of course, my go to under eye cream which is a must have for moms!! Remind me to put this in my hospital bag.
There were so many great sales last month and you all sure took advantage of those! I will continue to share the sales and bargains as we get into the holiday season. You can also check out the"Places We Shop" page on the blog to view and shop updated sales throughout the week!
I rounded up Septembers Top 10 Sellers below! Scroll down to the bottom to see what the number #1 seller of the month was!
10. Long Sleeve Surplice Knit Top

top // leggings (non maternity option)



dress // sunglasses // scarf // boots



dress // sunglasses // bag // sneakers


7. Striped V-Neck Shirttail Top

hat // sunglasses // shirt // shorts // bralette


6. 3/4 Sleeve Scoop Neck T-Shirt

tee // vest // leggings (non maternity option)



dress // sunglasses // poncho sweater // bag



sunglasses // scarf //dress // bag


3. Needles No More® – No More Baggage by dr. Brandt Skincare®


hat // poncho sweater // dress //bag // booties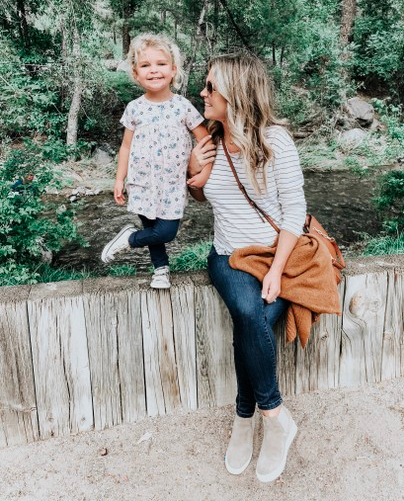 sunglasses // tee // jeans // shoes // bag // sweater