I can't tell you how many times we've been asked about how Brexton is sleeping such long stretches! He is currently 7 weeks old and is sleeping about 5-8 hours during the night and taking consistent naps during the day!
I wanted to share our routine and a little bit more about what he's sleeping in, what habits we've created and just HOW we get him to sleep those long stretches at night! Please note that I am not a healthcare professional and you should absolutely consult your pediatrician if you have any questions or concerns about your child's sleep!
I hope to answer some frequently asked questions as well as review the Happiest Baby SNOO Smart Sleeper that he's currently sleeping in!
I'd love to give you a little background on what we've done with each of our kiddos – so read this post about what methods we used for sleep with both of the girls. There are really no secrets here, just mainly a really good routine and an environment that promotes sleep!
Brexton is 7 weeks old. They say that for each week, they should be sleeping one hour more. For example, at 7 weeks old, Brexton should be able to sleep 7 hours at night. When he was 5 weeks old, he should have been able to sleep 5 hour stretches during the night. This is all dependent on the child, but that is a general standard when it comes to "sleep training"… I use the term sleep training lightly because we didn't necessarily follow a specific sleep method, but combined several of them and adapted to fit each of our baby's needs.
I'm going to dive into the sleep questions!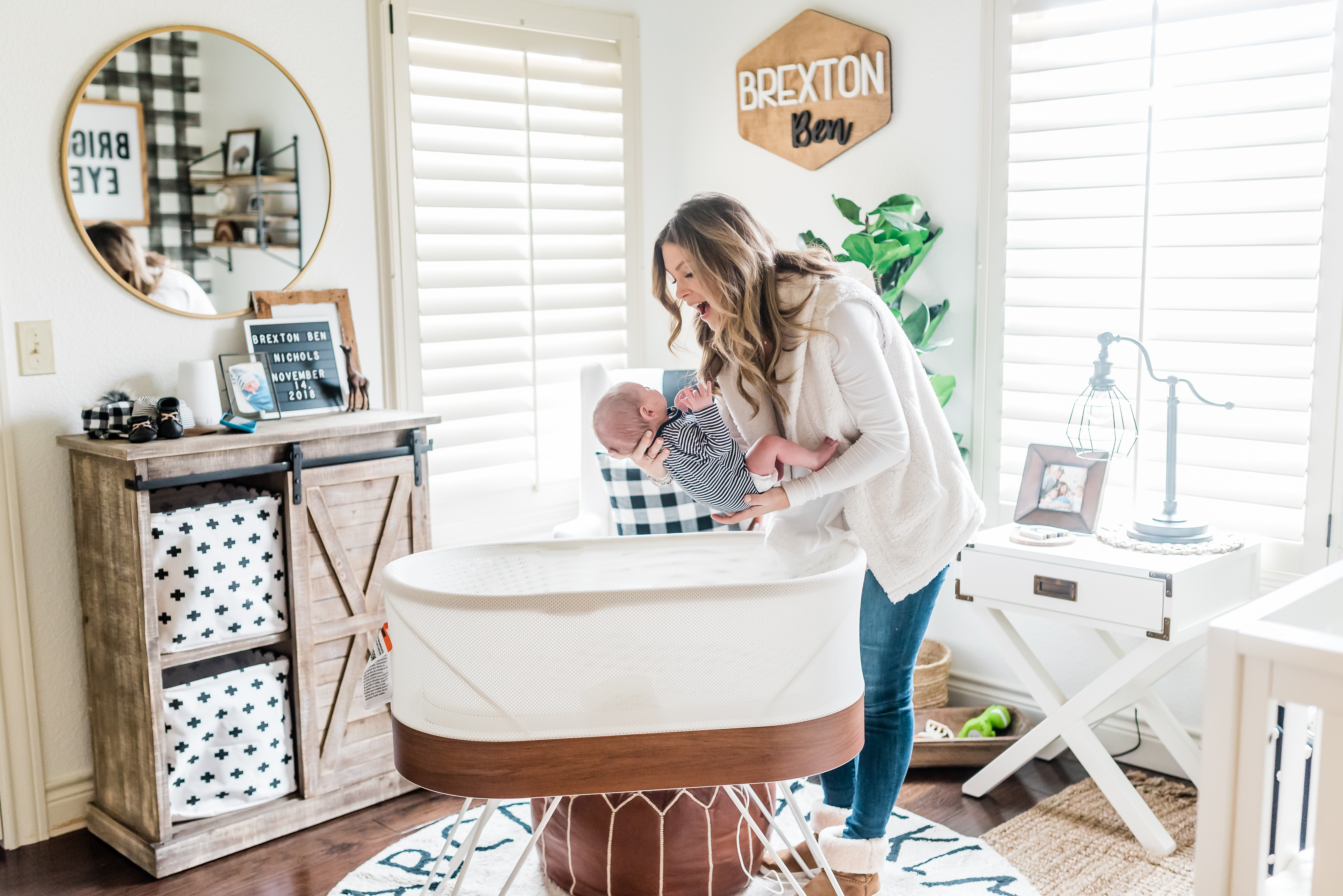 WHERE DOES HE SLEEP?
Brexton has been sleeping in the SNOO Smart Sleeper in our room for about 5 weeks now. For the first two weeks, he was sleeping at an incline in another bassinet to prevent reflux. He has also been consistently sleeping 5+ hour stretches since moving to the SNOO. He also takes at least 2-3 of his naps in the SNOO if we are home. If we are out of the house, he generally sleeps moving from one place to another in his car seat. The consistency of having him swaddled in the SNOO for each sleeping stretch is what promotes his good sleeping habits!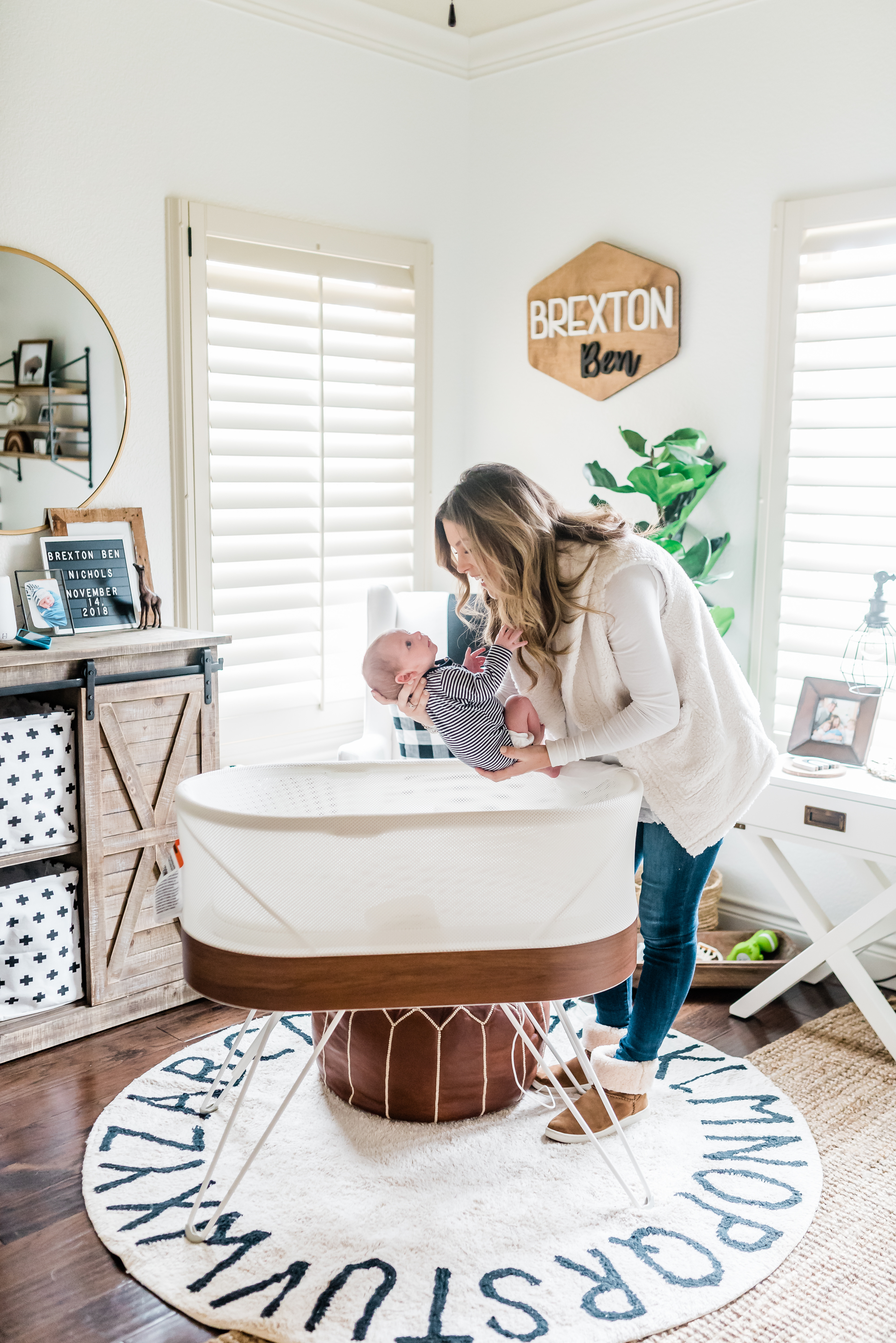 HOW IS HE SLEEPING IN THE SNOO WITH REFLUX?
We added the leg lifters to the SNOO so that it is tilted at an incline for his reflux. He doesn't mind it being tilted and it's just peace of mind knowing that he is safe while still inclined to prevent more reflux and him being uncomfortable!
WHAT DOES YOUR NIGHTTIME ROUTINE LOOK LIKE?
We bathe him every night. I know this is not what most people do as babies aren't "dirty" every day, but we do this for sleep purposes. We did this with each of the babies and it definitely cued to them that it was bedtime and time to sleep! Whatever time I am ready for him to sleep (typically around 8:30-9pm) is when we start the bath. He LOVES the bath, so I let him play and sit in the warm bath for about 10-15 minutes before getting him out, doing lotion, jammies and swaddle. Then I feed him and get him ready to go to bed. If he falls asleep while nursing, it's not a big deal because he doesn't wake up when I lay him down at this age. I do try to keep him awake while nursing, but sometimes that doesn't happen! Once he's finished nursing, I keep him upright for 20-30 minutes (helps with reflux) and then put him in the Snoo for sleep!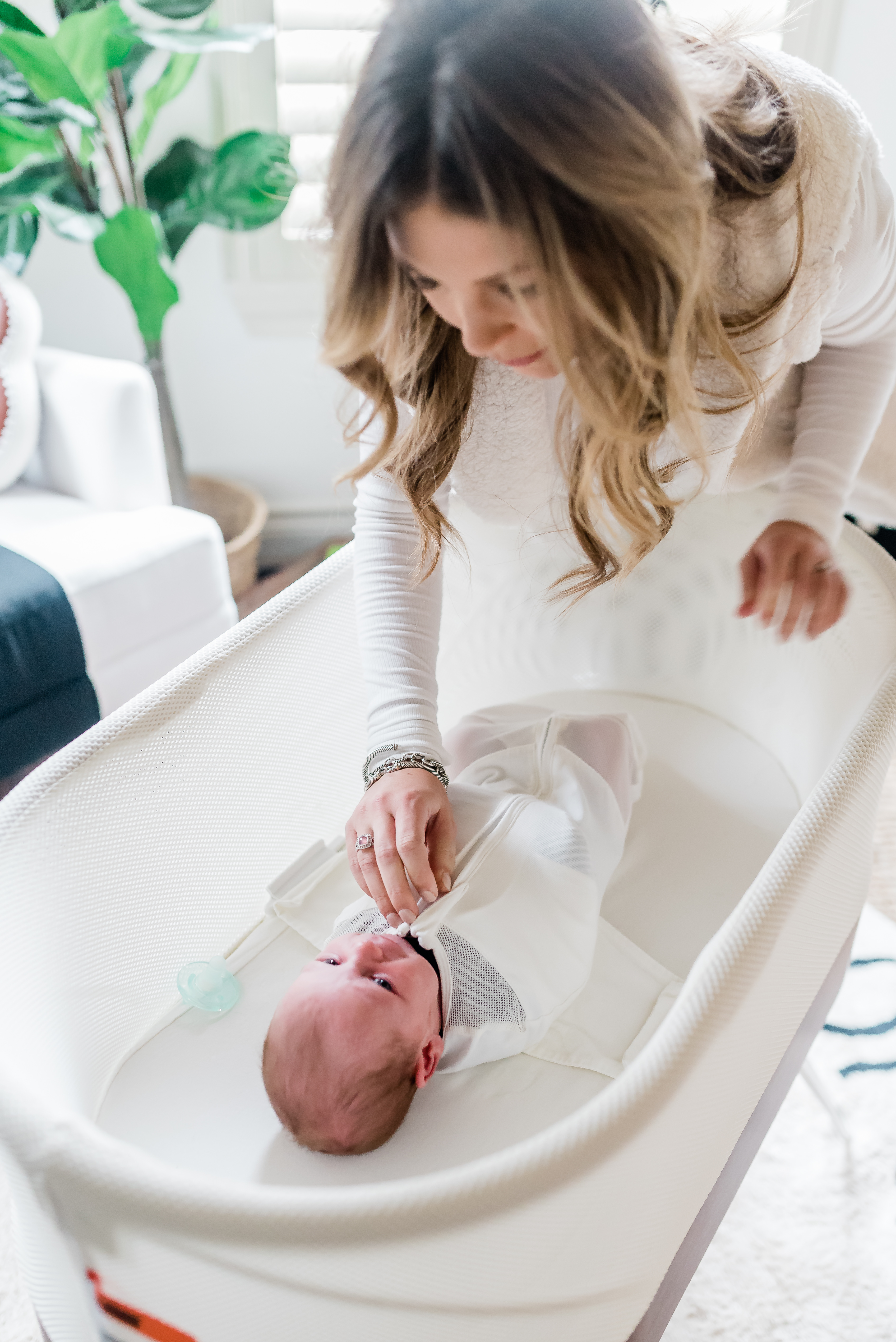 WHAT IS HIS TYPICAL DAYTIME ROUTINE?
We follow the eat/wake/sleep/repeat routine! It's worked for all three of my babies and it keeps myself (and them) consistent on what to do next. If we miss one of the elements, we just pick right up where we left off. This happens from time to time as we are out running errands, etc. When he wakes up (typically anywhere from 6:30am to 8:30am) we start our day with eating. He nurses, then I keep him up for about an hour to an hour and a half before he needs to go down for his first nap. He always sleeps in the Snoo for his first nap and it usually lasts from 1.5-3 hours. This is one of his longest naps and when I usually pump after feeding and also get some work done. Once he is awake, we repeat the eat/wake/sleep routine throughout the day until it's time for bath, then we eat/play/eat/sleep. I sneak in an extra feed right before bed. You can also do a "dream feed" to help them sleep longer stretches!
Typical Schedule/Routine
8am Wake up / Eat
8:30 Play (can be anything from staying awake to playing on his playmat or just letting sisters hold him)
9-9:30ish Sleep – I get him good and sleepy and follow sleep cues for when he is ready to go to sleep. I put him into the Snoo sleepy but awake.
11 Eat
11:30 Play
12:30 Sleep in the Snoo
2:30 Eat
3:00 Play
4:00 Sleep in the Snoo
6:30 Eat
7:00 Play
8:00 Quick Nap (usually in the swing, rock n play or I wear him)
8:30 Eat
9:00 Bath
9:30 Eat
10:00 Bedtime – Sleep in the Snoo
*He will usually sleep until 5-6am and then I will feed him and put him back down. He'll sleep for another 2 or so hours before he's up for the day.*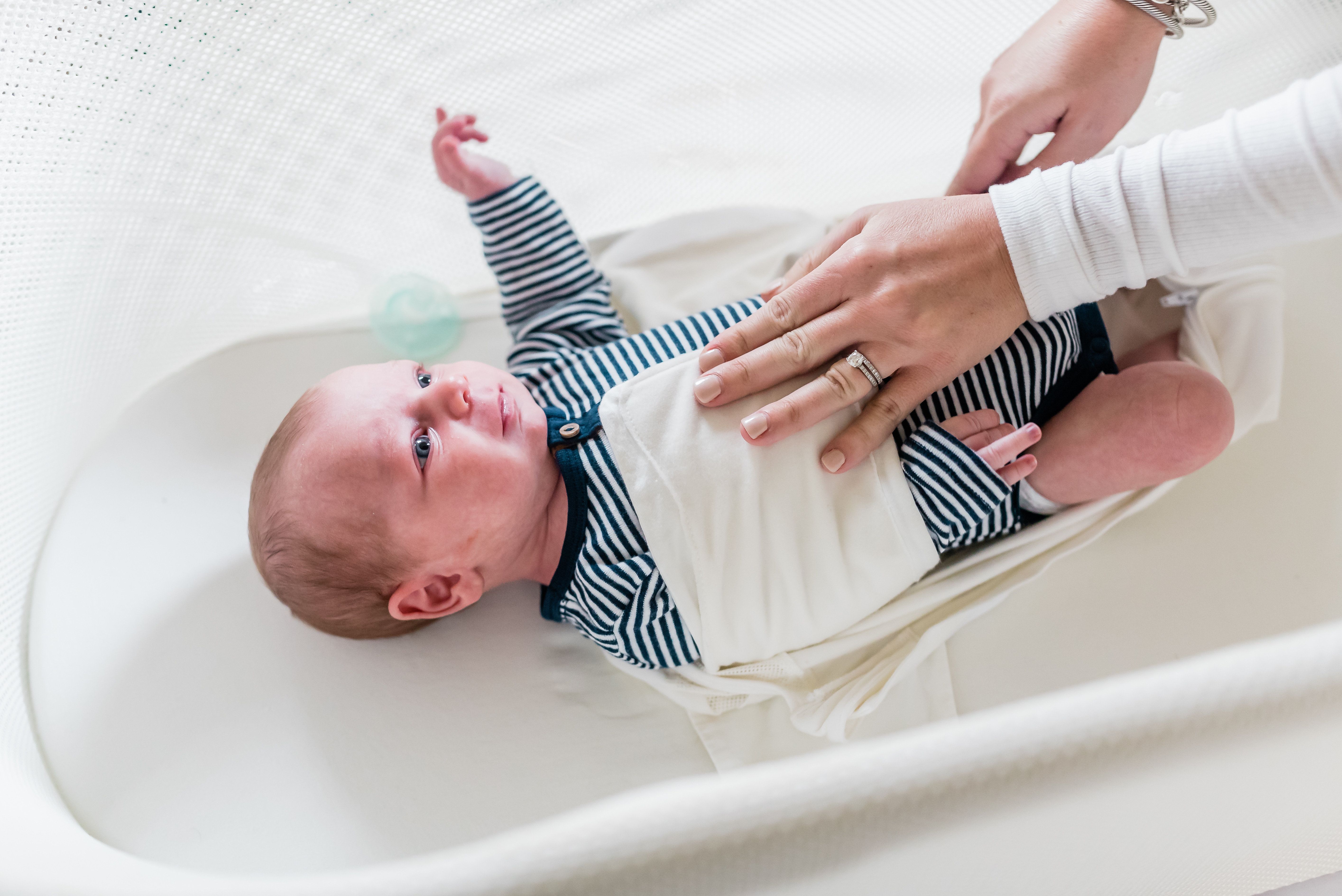 ARE YOU BREASTFEEDING AND DOES HE NURSE TO SLEEP?
I am exclusively breastfeeding, but this schedule can work for whichever way you choose to feed your baby. He doesn't normally nurse to sleep, but occasionally he will fall asleep while nursing and if I can't wake him up, I don't stress!
HOW DO YOU GET HIM TO SELF SOOTHE?
The SNOO has helped with self-soothing so much for him! He didn't take a pacifier until about 2 weeks ago (at 5 weeks) so it's been helpful to be able to put him in the SNOO and it soothe him when he's fussing until he goes to sleep.
The SNOO was actually built by Dr. Harvey Karp, renowned pediatrician and creator of the 5 S's. We use the 5 S's and have with both of the girls. The SNOO mimics the motions that help calm a baby that's fussy. This works by turning on the baby's calming reflex, as described in his book "Happiest Baby on the Block." The SNOO has 4 different settings that "hears" baby's cries and automatically boosts sound + motion, just like mama. It has white noise and rocks side to side gently. All of these together naturally sleep trains babies; SNOO's rhythms help infants learn to self-soothe and sleep through the night.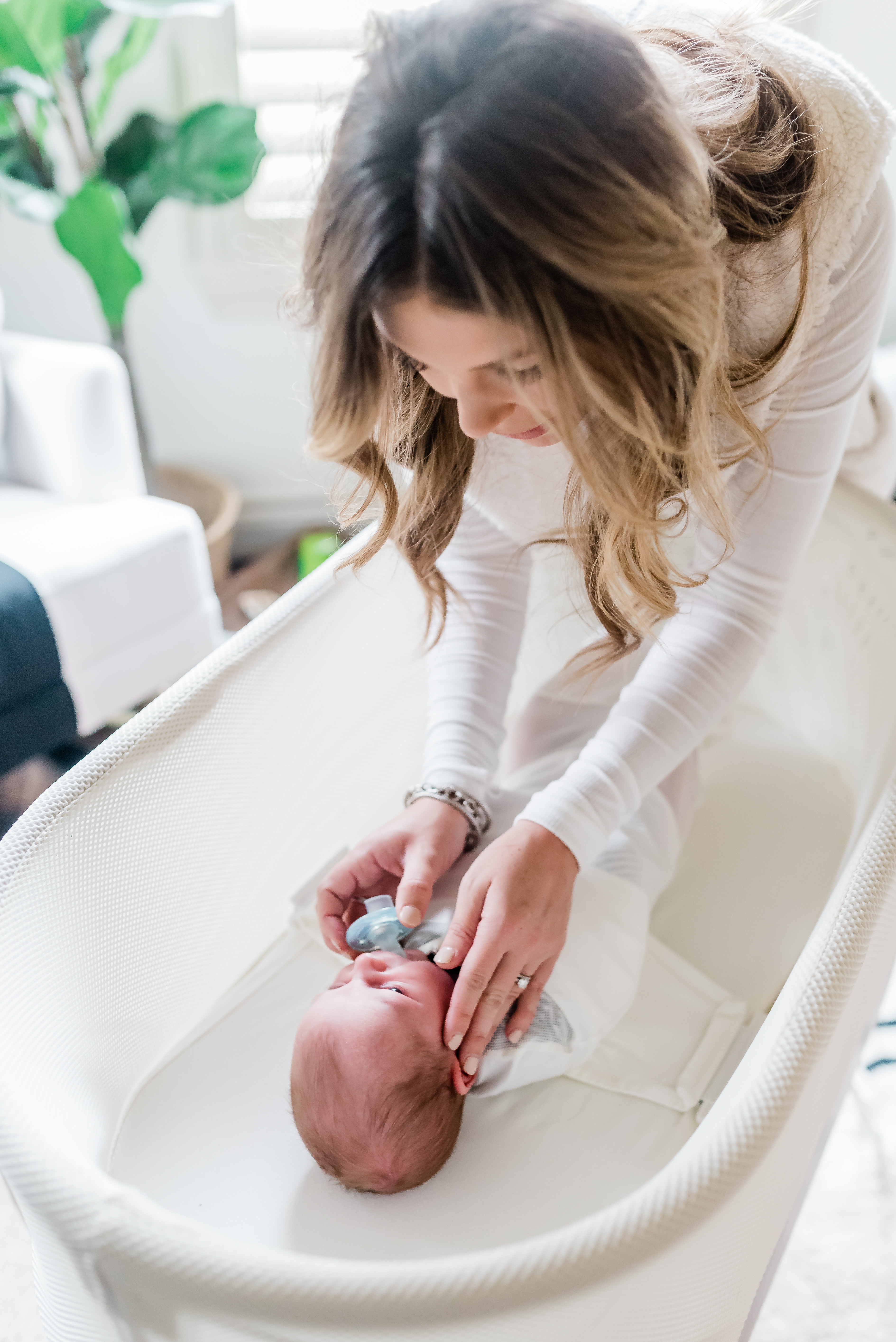 DO YOU LAY HIM DOWN AWAKE OR GET HIM TO SLEEP FIRST?
Most of the time, I lay him down sleepy, but awake. I watch his sleepy cues during "play/wake" time and make sure he's sleepy before I get him ready to nap/sleep.
HOW MANY TIMES ARE YOU NURSING THROUGH THE NIGHT?
If he wakes up before the 5 hour stretch is up, I try to get him back to sleep with a pacifier or the SNOO hears his cries/fussy and soothes him back to sleep. So, if he wakes up after that, I nurse him. I am usually up feeding him once or less during a 8 hour period at night.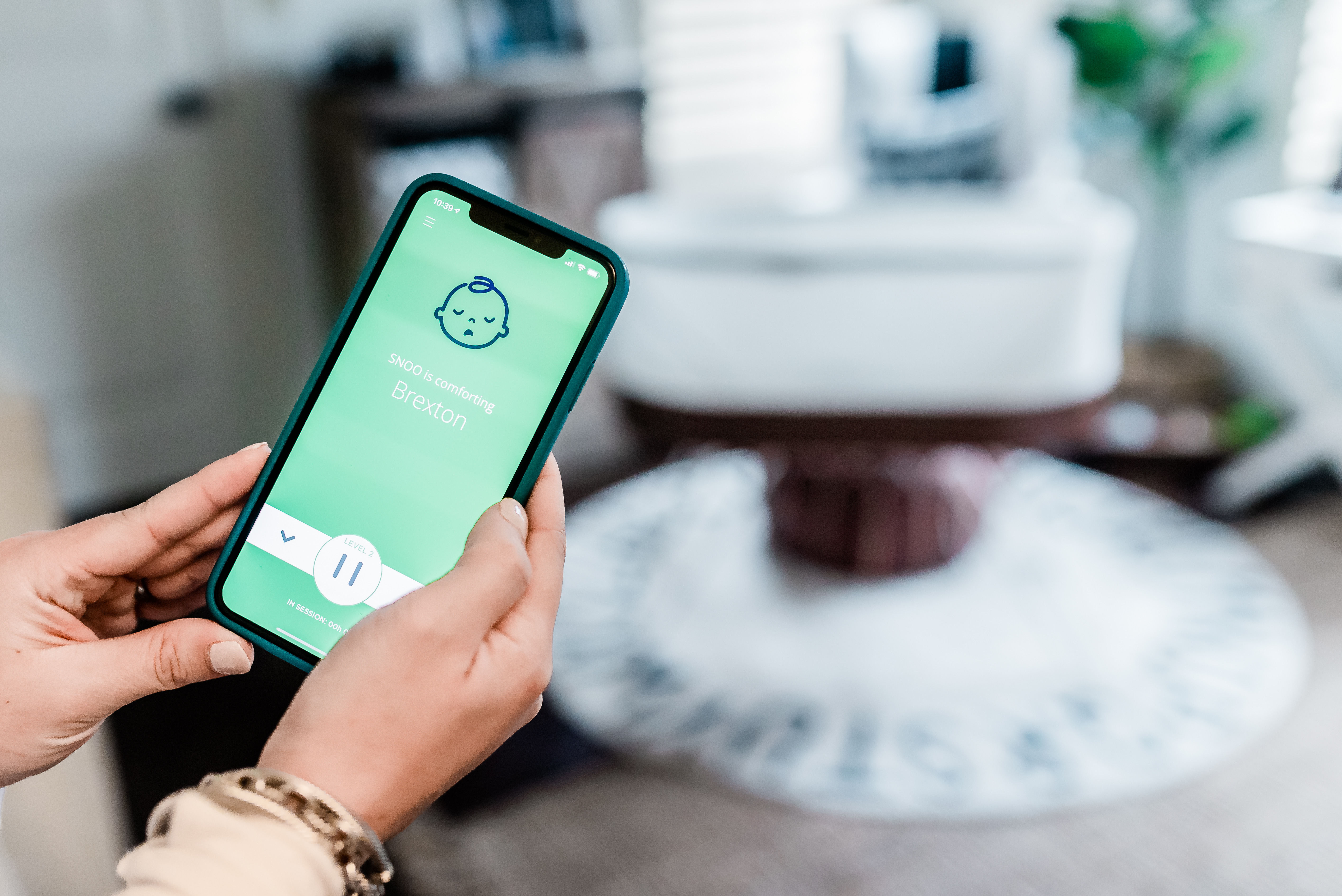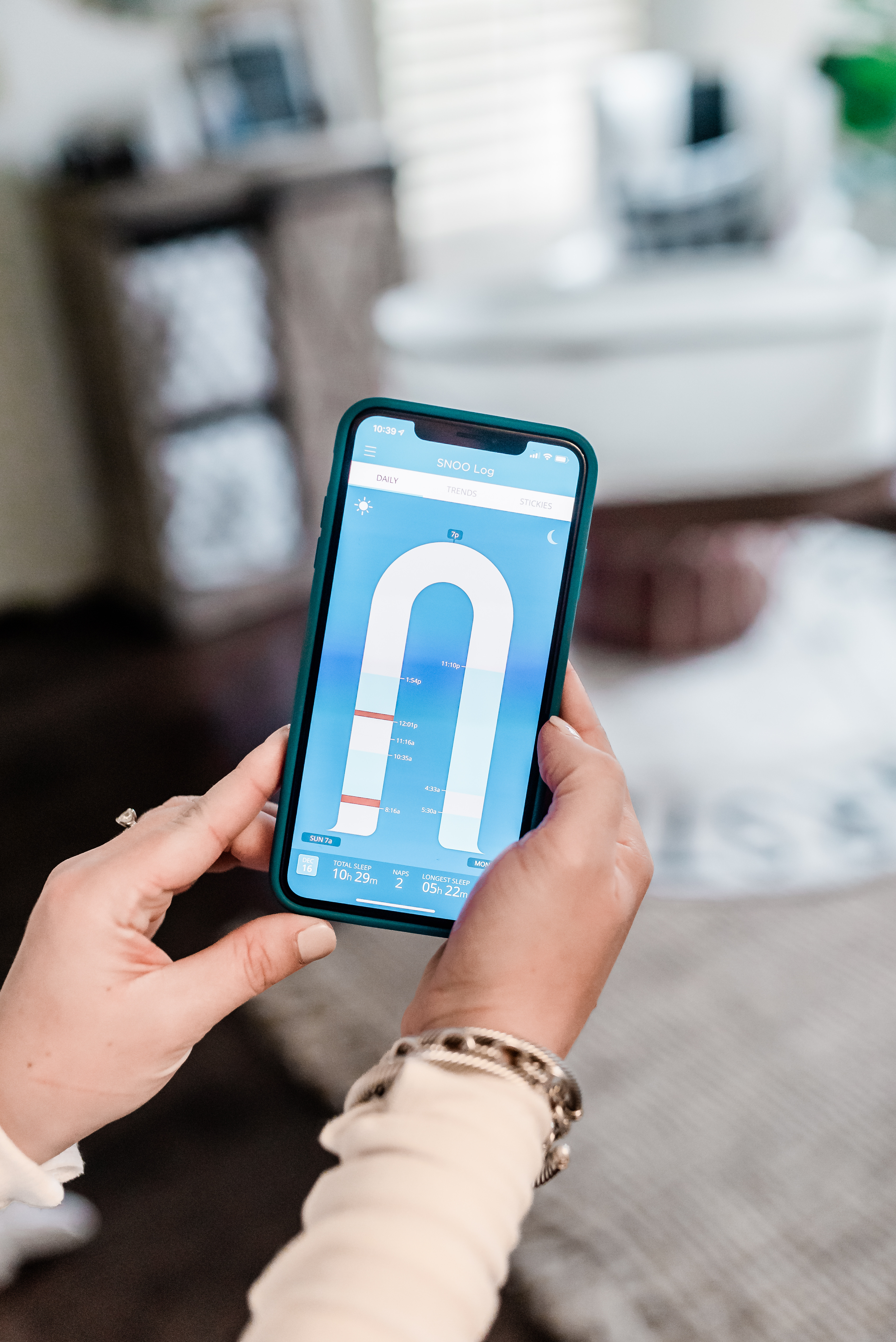 HOW CAN I GET MY BABY TO SLEEP LONGER STRETCHES?
I HIGHLY recommend looking into the SNOO if you haven't yet. It helps most new babies within 1-2 days…and babies older than 6 weeks within 3-7 days. We started using it at 2 weeks old and were sleeping through the night consistently by 3 weeks.
A LITTLE MORE INFORMATION ABOUT THE SNOO SMART SLEEPER – WHAT IS SO GREAT ABOUT THE SNOO?
The app is probably the coolest feature! It tracks sleep and also can send you alerts. I often can't remember what time he wakes up from a nap for when he needs to eat again, so I reference the app so often. Also, babies need a certain amount of sleep per 24 hours depending on their age, and the app keeps track of all of that for you! It also has adjustable settings for motion, sound and cry sensitivity; includes gentle preemie/newborn mode, the daily sleep log report (that I talked about) and mobile alert: tells parents when the baby is not calming (due to hunger or discomfort).
Aside from it being SO DARN COOL, the SNOO is also the safest bassinet on the market. The SNOO Sack (swaddle) secures to safety clips on bassinet to prevent rolling and gives parents peace of mind. It's also the only bed that keeps babies safely on the back—all night long—as recommended by the American Academy of Pediatrics.
I also really love the way it looks! It's one of the most neutral and best bassinets on the market!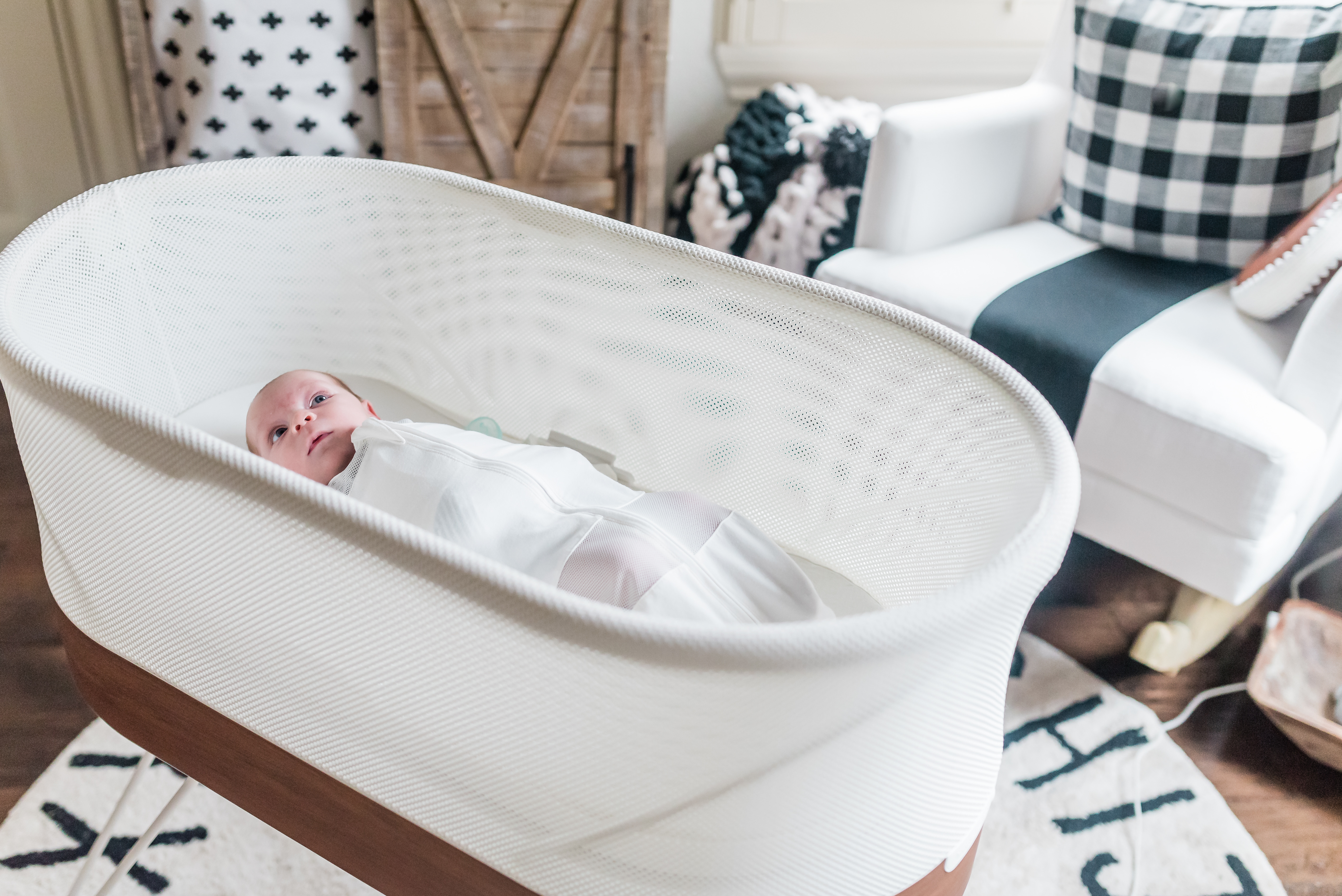 HOW LONG CAN I EXPECT TO USE THE SNOO AND HOW DO YOU TRANSITION TO THE CRIB?
The SNOO is helpful for 6 months or until the baby gets up on hands and knees or reaches 25 lbs. There is actually a weaning setting that prepares your little one for an easy transition to the crib. I will for sure let you know once we cross that bridge, but for now he is sleeping SO good.
Whewww I feel like that was an overload of information, but to sum it up…the SNOO is amazing and I feel like it is the price you pay for a good night's sleep. I think it partnered with our routine, we can expect our babies to sleep really well. I didn't have the SNOO with the girls, but I did have to go ahead and sleep train them later on because they didn't know how to self soothe. I feel like this is teaching Brex for me, and I hope that he is already "trained" when it comes to putting himself to sleep and back to sleep from waking up.
I would love to hear your thoughts on the SNOO if you have one. Also if you have any tips for promoting great sleep for babies, please add it to the comments so everyone can see! Lastly, if your baby is not sleeping well, please don't stress! You can do everything "right" and straight from the book and sometimes babies just don't sleep. It's such a short period of time in their lives, and while it feels like an eternity (especially when you're not getting rest) it will go by quickly and they will become great little humans. Give yourself some grace (and several pots of coffee) because it too shall pass. If you are in the market for the SNOO, you can purchase here. I try to alert my readers when there are sales on these. While they are on the more expensive side, I DO truly believe that it is worth it and you will definitely be happy with the outcome.
If you aren't sure, you can purchase and have a 30-day risk-free trial period. You can't beat that. I'm pretty sure you won't be sending it back. The SNOO is a life-changing item for all parents! PROMISE!
I partnered with SNOO for this post and was given a SNOO Smart Sleeper to test for review. All content and opinions are that of my own!