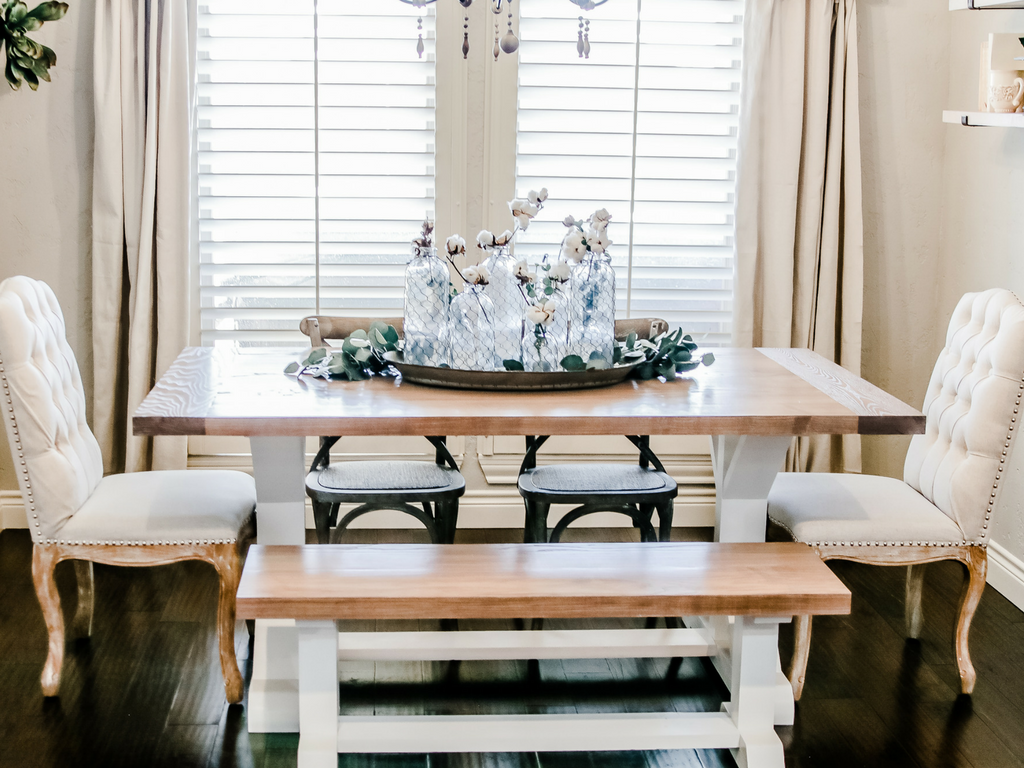 This post has been in drafts for forever now! Every time I try to get some good pictures of my kitchen, my kids go on and eat mac and cheese…and you know…live! I think that is why I don't post a lot of home content. Our home is lived-in. It's messy 90% of the time and I can't keep up with all of the Shopkins and Barbies everywhere! But, one thing I do know is that we've made the BEST memories and while it doesn't stay clean and kept, we have FUN and my kids LOVE their home.
A few months back, I went onto Instagram Stories to talk about how I was feeling inadequate. I saw my friends posting their perfect and immaculate homes (which isn't real life) and it made me feel like mine wasn't good enough to post. I quickly got over that when God revealed to me that it was the devil stealing my joy. He was trying to take joy from me and my home (which I love) and that's not okay. It was then that I changed my way of thinking and instead of feeling less-than when I saw those, I decided to put my energy into a new project.
I decided to take ONE area in my home and transform it into a place that I LOVED and was proud of. I'm great at putting outfits together, but I second guess every single thing I do with decorating my home! SO…I knew I needed help. I started small with an area that we use daily; our dining area! I didn't have much budget to work with, but my friend Perla of Pearls and Me decided to take me on as a client to work within my budget to create a space that I would enjoy. Her husband works closely with her to create custom tables (YES, from scratch) and makes the most beautiful woodwork!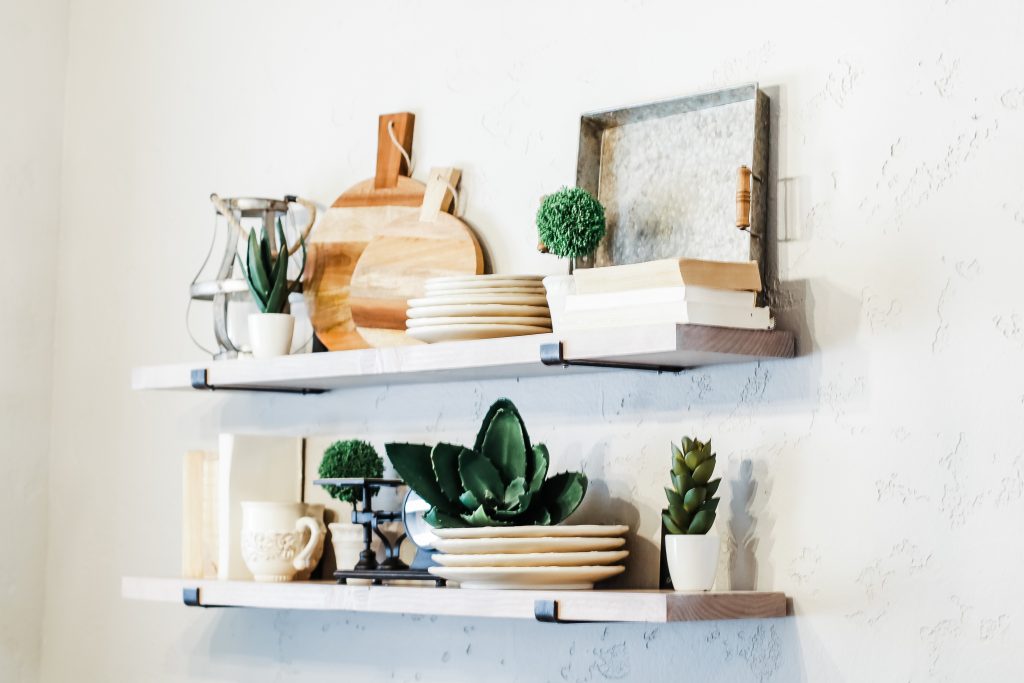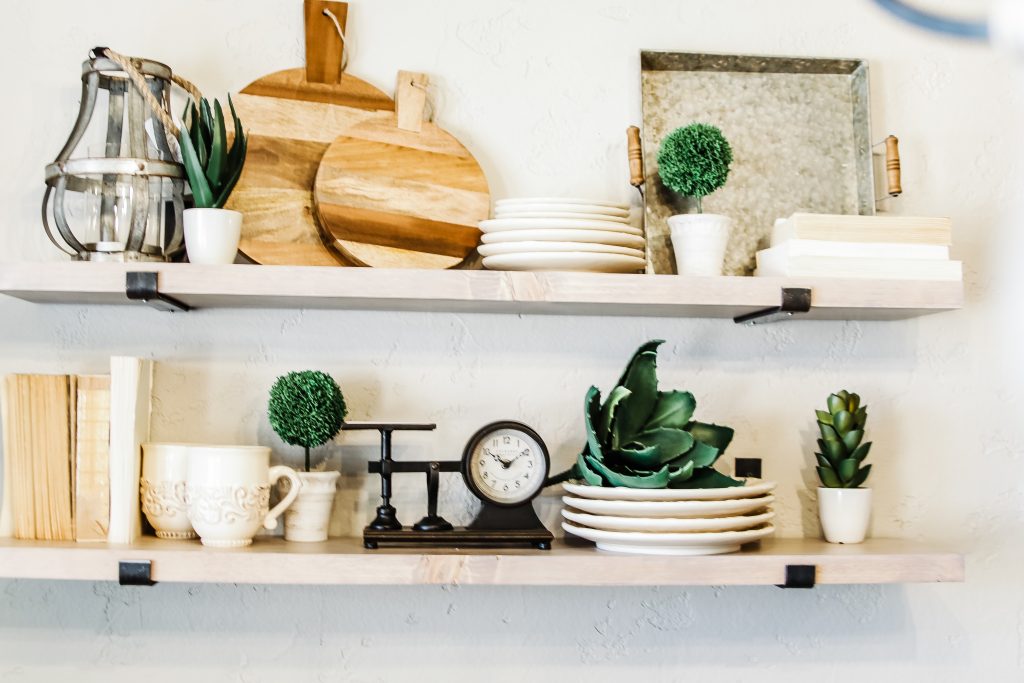 We decided to work closely with a local boutique for all of the decor. Dryland Decor is absolutely the cutest, most sweet little boutique that I've come across! I LOVE the farmhouse/rustic style and LOVE everything that she gave us to decorate! If you're ever in the Lubbock area, you've got to stop into her shop but if you are far away you can shop ONLINE at their shop and follow along with Instagram.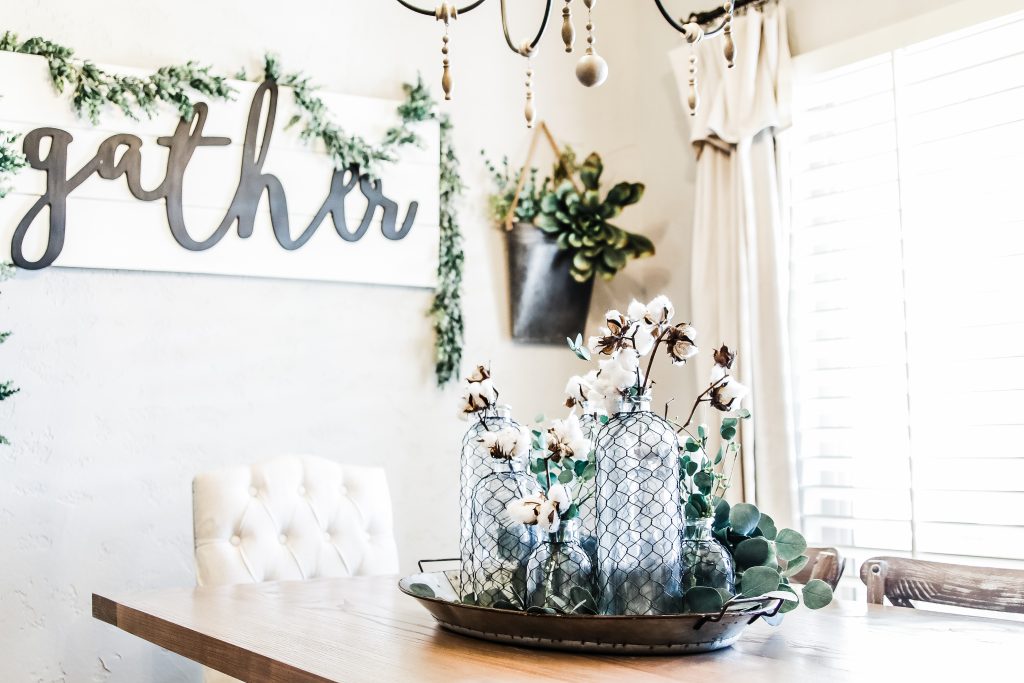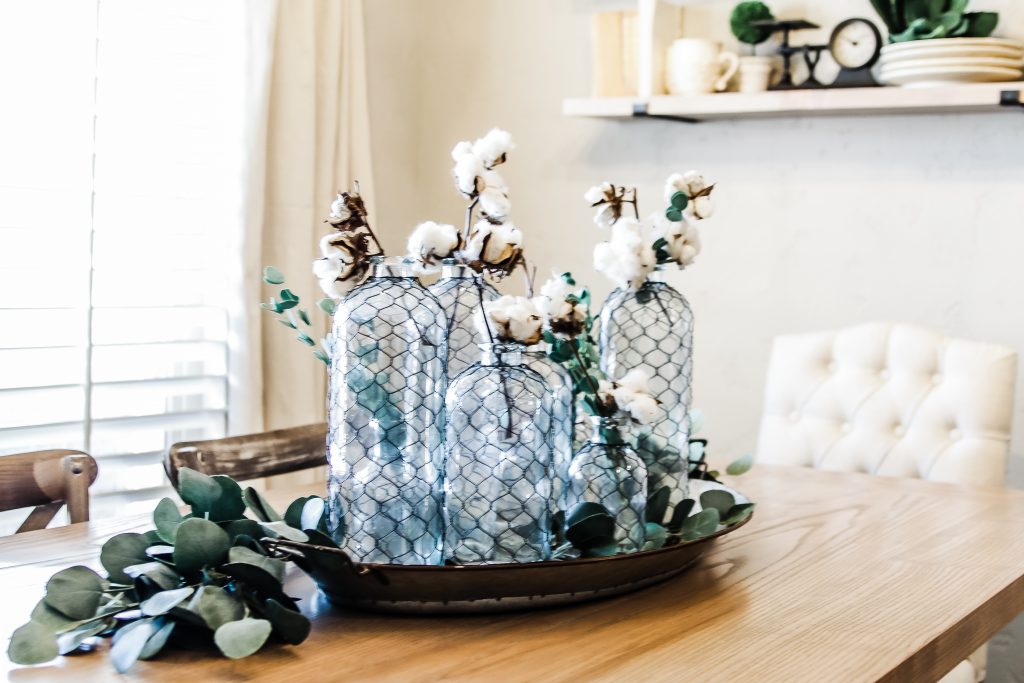 A few of the items such as the chairs (tufted and wooden) came from Amazon. The light fixture came from Wayfair, and the sign is from Feather & Birch (painted and stained 44″)!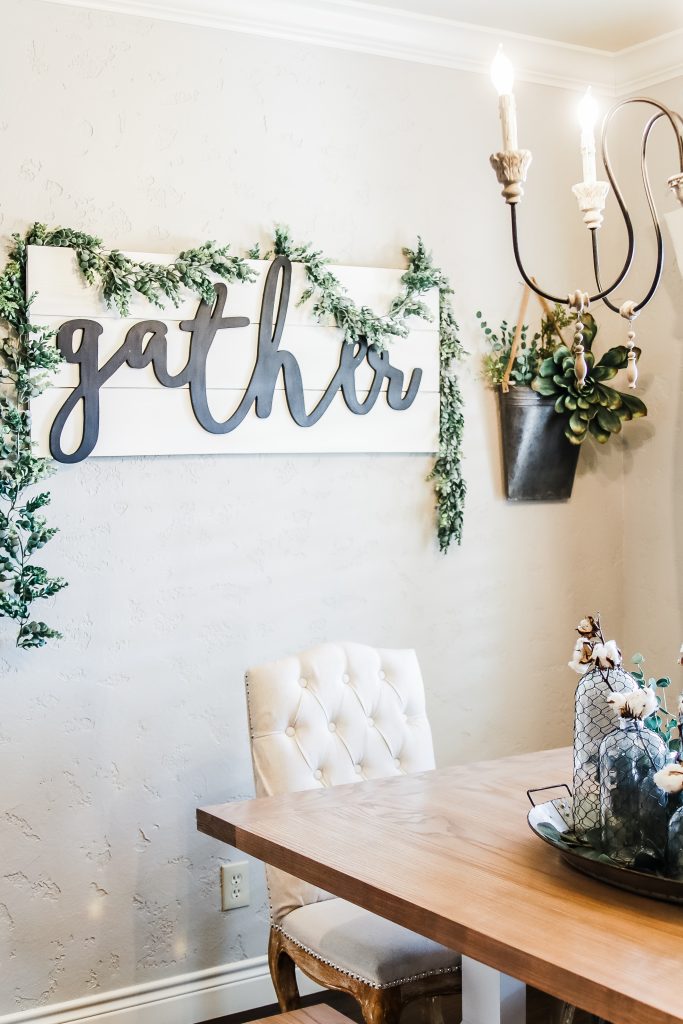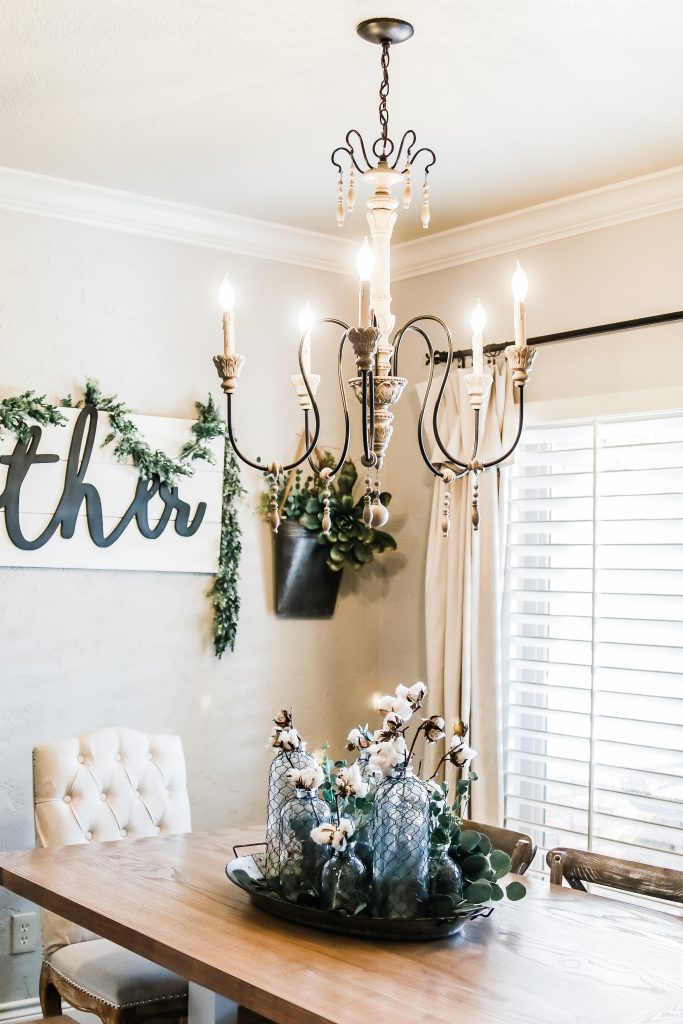 I am going to let Perla and Quin tell you exactly what they did with my space and also a before and after! WOW!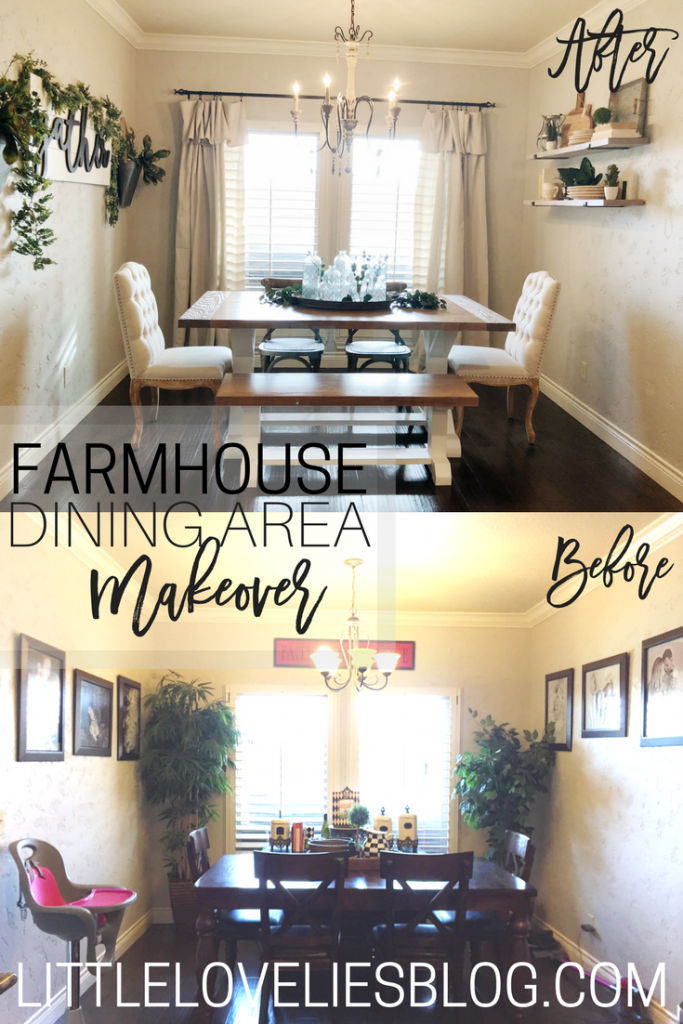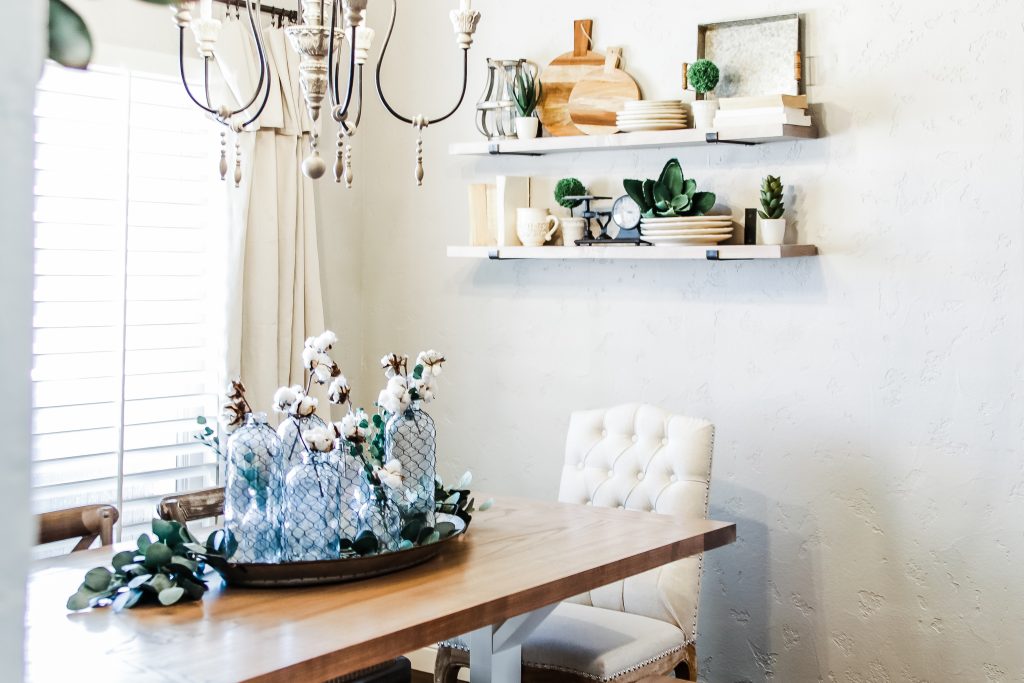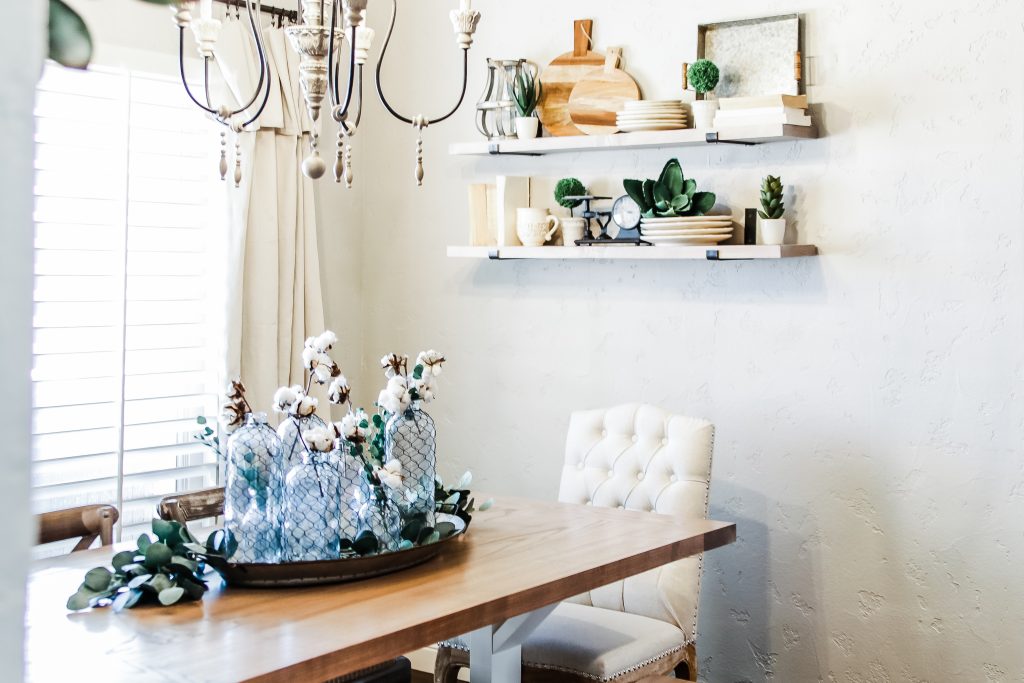 The Design
PERLA:
When a potential client comes to me and asks for my services, I first set up a meeting with the client to get a feel for the space and talk about their wants and what their needs are. Once I get to know the client I get a feel for their style and see what they're thinking. My job and desire is to make their dreams and ideas come to life. Next, we discuss the budget, and run from there!
With Ashlee's space, I noticed a traditional style was in place and lacked coziness, however she wanted a more fresh and farmhouse style.
So next i do research by going online and started having some fun! Looking for ideas, chairs, table styles, decor, greenery and really just putting together a style I thought she would love. So next I met with my hubby who does woodworking and designs/builds tables and started working with him on style, table color and bench design. Then after that I met up with Ashlee again, showing her what we had and were thinking and finalizing the last details before ordering everything and building to make this project come alive! Our experience with Ashlee was very exciting because she gave us free reign and trusted our design point of view and basically just said "Go for it!" So Quin started building and I started ordering! When it was all ready we loaded up a trailer and headed to Ashlee's.
The reason I did the window treatments is because I wanted to add some warmth and height to the room.
While visiting with Ashlee and getting to see the need of the space and the rest of her house I wanted this room to flow with the rest of the house and she has a lot of warm tones throughout her house so I went with these soft colors! While I was in the hunt for curtains I saw how I could just make them myself!! I went to Walmart and bought 2 bags of 6'x9' painters cloths that were around $10 each!!! Yes $10, can you believe that!!!!! When you get them out of the bag they have a small odor so I laid them out for a couple of days so the smell would air out. I didn't want to wash them because if you wash them they tend to shrink and I needed them that length for this room, so I could not afford for them to shirk. After that I iron them.
I didn't have to do any sewing, all I did to give them that ruffled look on top is fold the top 14"
Use some clips and just separate them every 8" away from each other and hang them! I love the way they turned out!! It's super easy and a very inexpensive way to add some dimension to your room!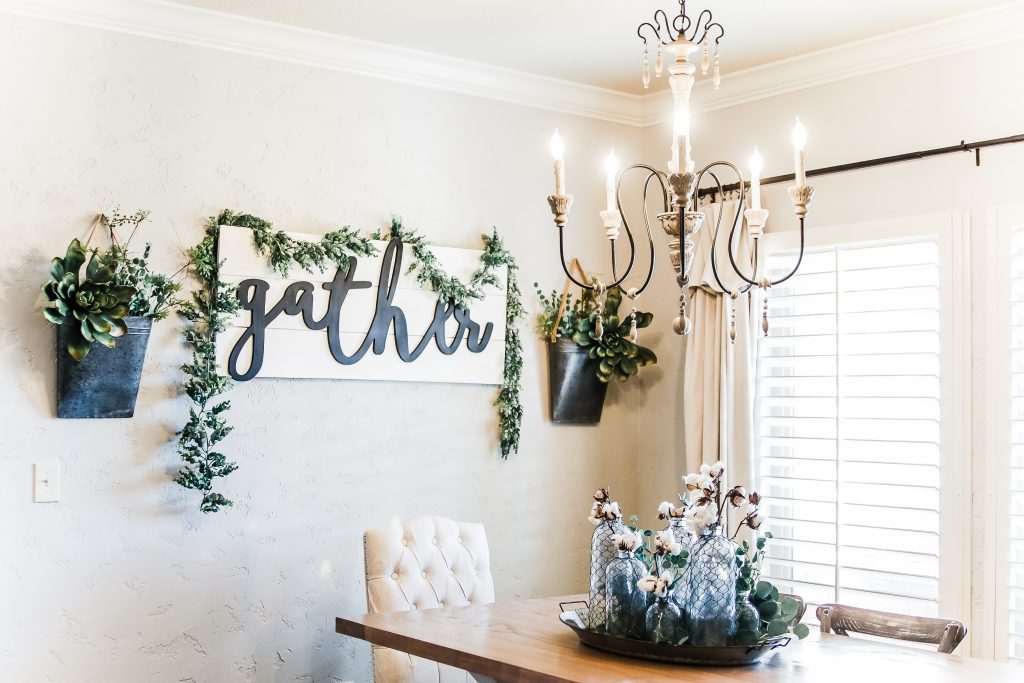 The Table
QUIN: Going forward with this table we really wanted something that would compliment the area without clashing with the floor and cabinets. So collaborating with my amazing designer wife we came up with a white base (furniture grade pine) and an ash top stained whitewash then grey on top. Lightly stained. I went with ash wood because it an affordable hardwood, very dense and heavy, and will last a lifetime and longer. Pine for the bottom bc it takes paint very well. Note, this is not a big box store pine. Furniture grade pine from a lumber store is very different, much cleaner and better quality. The combination turned out very well, a beautiful sleek painted bottom and a smooth clean top lightly stained so you can still see the beautiful grain ash provides.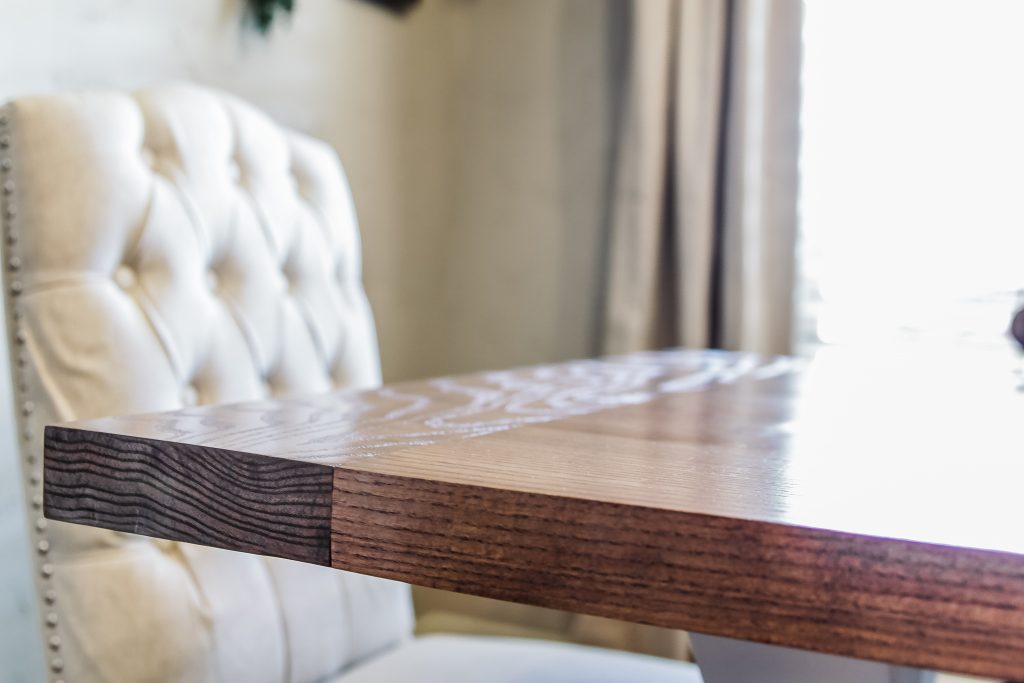 Quin also created my shelving! He is truly great at what he does!
If you are in our area and looking for someone to take charge of your space, I highly recommend Quin and Perla! They did an amazing job creating this space and we've LOVED it! I've even managed to keep it a little more clean, and really enjoy my meals and morning coffee while in it! I feel like they helped me make this space OURS and truly saw my vision while creating it within a small budget! They are amazing – and have such a heart for God! I LOVE that about them!
You can contact Perla and Quin HERE; and follow their Instagrams here: PEARLSANDME + QGWOODCRAFT
Thank you to Pearls and Me, QG Woodcraft, Dryland Decor and Feather and Birch for providing your services and products for collaborating to make this project happen!