AHHHHH you guys! It's getting SO REAL!! I can't believe we will have a baby in our arms so soon! I've been praying that he come on the exact day that God has planned for him and for him to be the perfect addition to our family. I just can't believe that it's almost here — any day now!



maternity spanx faux leather leggings // top // cardigan (sold out, similar) // shoes // sunglasses
This will likely be my last bumpdate post, unless he's super stubborn and wants to come very late! We've made it past the 37 week point that I went into labor with Lennyn, but Laikyn was born at 40 weeks and 1 day! You just never know when they're going to come! Either way, we can't wait to meet our sweet boy!
I'm going to jump right in and talk about my last few weeks being pregnant!
36 WEEKS

Baby is the size of a: papaya
Total weight gain/loss: I'm up at least 35 lbs which is way more than I was with the girls!
The Bump: It's getting rather large. LARGE.
Food Cravings: basically everything. Cereal. LOTS of Halloween Candy. OOPS.
Sleep: basically non-existent unless I take 1/2 unisom nightly at bedtime. I also started using the Smilo pregnancy pillow and it's helped so much!
37 WEEKS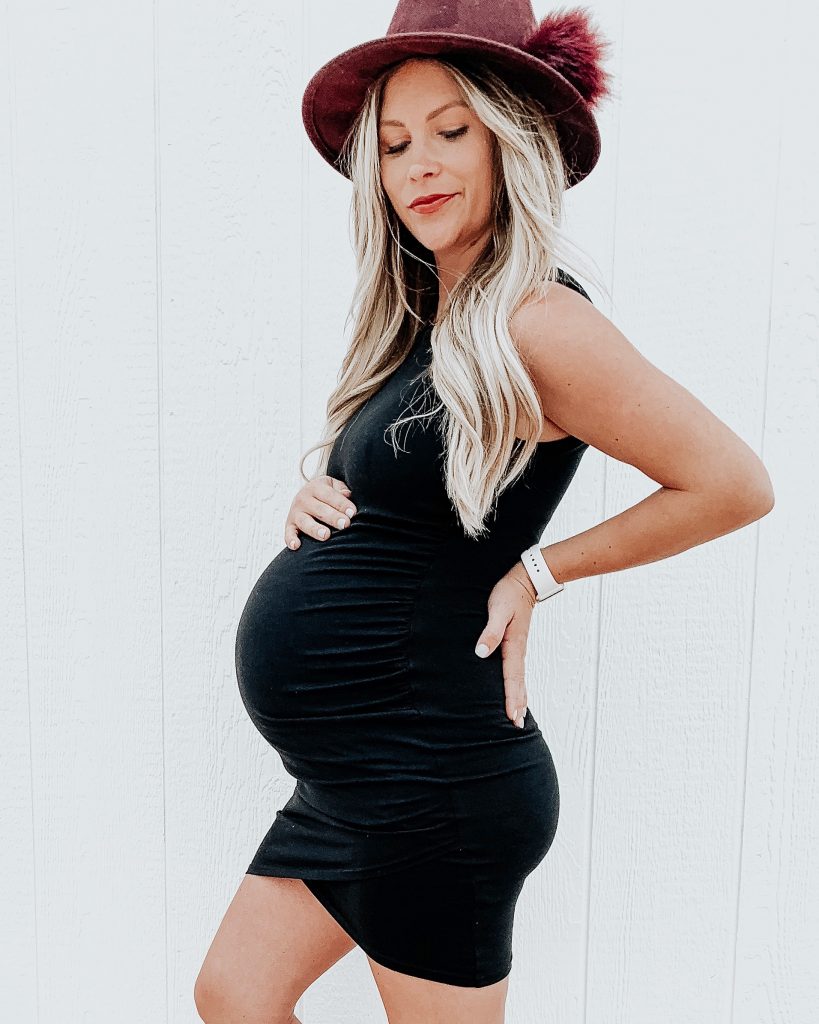 Baby is the size of a: Romaine Lettuce
Total weight gain/loss: 37 lbs. I'm getting depressed about this lol
The Bump: LARGE and in charge.
Food Cravings: basically everything. All food. All the time.
Sleep: I'm getting hardly any! I guess it's preparing me to be up with him at night!
38 WEEKS
It's been pretty funny these last few weeks of pregnancy because the girls have really gotten into it! Laikyn has been saying things like, "Mom – you're too pregnant to walk around that store. Mommy….you really shouldn't be outside right now, you're too pregnant!" Haha. It's just hilarious that she even thinks that way and cares about how I'm feeling. Lennyn has been hugging and kissing my belly, telling me that she will miss my BIG BELLY when it's gone. I know they're going to be the best big sisters!!
I bought the girls' outfits to meet Baby Brother in this week. I can't wait to see them meet him and I can't wait to watch him adore them for years to come! God really knew what he was doing when planning our family. I'm getting so emotional and feeling so blessed.
How am I feeling with number 3 coming? Well, I'm slightly freaking out. I don't know how I'm going to do it all. I DO KNOW that I am going to love all of these sweet babies and that God gave them all to us for a specific reason. I feel so lucky that God entrusted me to be their mama and am so so thankful to have them.
What else? Other than eating excess Halloween candy, cereal and CFA cookies….nothing much has changed. I'm still feeling rather good (for being almost 40 lbs overweight) and only having a few aches. I have contractions daily, but nothing that has really been consistent. I'm torn on whether I want him to come now and us snuggle him or if I want to keep him to myself for a little while longer. Like I've prayed, God knows the perfect time for him to come! We'll be ready and adjust whenever that may be!
Thank you for all of the well wishes, prayers for a safe and healthy delivery + baby and just for following along during my pregnancy! I have enjoyed getting to share this aspect with yall and can't wait to share all about HIM when he's here! 🙂
Hope you all have had the best weekend! In case you missed my IG stories and FB posts – there is a HUGE sale on Spanx Faux Leather Leggings – on sale for under $70 which is CRAZY good!! Snag them while supplies last!